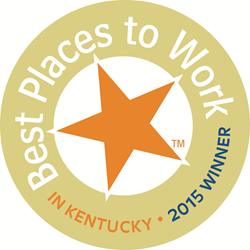 "We're proud to serve thousands of Kentuckians and their families each year, and to call this state home." – Joe Steier, President and CEO, Signature HealthCARE
(PRWEB) January 30, 2015
Signature HealthCARE (SHC) is proud to have been named to the list of 'Best Places to Work in Kentucky' for the second year in a row.
The list is published annually by the Kentucky Chamber of Commerce and the Kentucky Society for Human Resource Management. It is based on an assessment of participating companies' policies and procedures, along with the results of employee surveys.
Those survey results are a continued reflection of engagement levels among Signature employees, or stakeholders. The company's most recent Stakeholder Engagement Survey, administered last fall, yielded an organization-wide engagement score above 4.0. This puts Signature, as a company, in the highest category, indicating that employees 'perform at consistently high levels' and 'work with passion and drive innovation.'
Signature, a nursing, rehabilitation and health care provider with 126 locations in 10 states, was founded on three cultural pillars: Learning, Spirituality and Intra-preneurship. Each pillar has its own staff and programming that is operationalized in each of its facilities. Services offered by the pillar departments are designed to enhance health care and quality of life for patients and residents while helping employees advance their careers.
The Kentucky Chamber of Commerce represents the interests of more than 90,000 employers statewide. A total of 90 companies and organizations were chosen in three size categories based on number of employees for the 'Best Places to Work' list. Winner rankings will be announced during an awards banquet on April 14.
In Kentucky, Signature employs more than 5,500 people at 28 locations statewide, and at its headquarters in Louisville.
"It's an honor to be recognized alongside fellow health care providers and top employers in every industry," said Signature President and CEO Joe Steier. "We're proud to serve thousands of Kentuckians and their families each year, and to call this state home."
For a full list of this year's 'Best Places to Work in Kentucky' honorees, click here. For more about Signature HealthCARE, visit LTCRevolution.com.