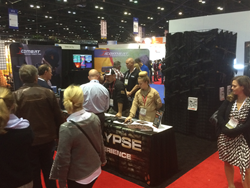 It's also a great experience for operators to come check out the latest and greatest while seeing what the rest of the entertainment industry has to offer
Whitewater, Wisconsin (PRWEB) February 02, 2015
iCOMBAT, the world-wide leader in laser tag equipment manufacturing, has big plans for the public appearances of all their brands in 2015. The brands, which include iCOMBAT Entertainment, iCOMBAT Tactical, and Hero Blast, will be at several of the entertainment industry's largest tradeshows. Some of these brands will also appear at smaller, more market-focused shows.
Attending these shows will give current and prospective operators a close look at the complete product line to see what works for them. They can speak one-on-one with an expert staff member to learn everything from operation of the equipment to the financial management of their facility. There is no better way to get information on iCOMBAT equipment and systems.
The first of these shows is the American Camping Association show February 3rd-6th, followed by The Rental Show February 22nd-25th, both in New Orleans. Wrapping up that month is the Paintball Extravaganza on the 24th – 26th in Washington DC.
In March, iCOMBAT will be at the Transworld Haunt Show in St. Louis from the 8th to the 11th, then at the Amusement Expo / Laser Tag Convention in Las Vegas on the 24th-26th.
Then there is the Roller Skating Association show in Las Vegas on May 10th-13th. On June 22nd-26th is the Bowl Expo in Las Vegas again.
The year wraps up with the two biggest shows, the European Attractions Show (EAS) and the International Attractions and Amusement Parks Association (IAAPA) show. EAS takes place October 6th-8th in Gothenburg, Sweden and IAAPA takes place November 16th-20th in the usual location, Orlando.
"Featuring our products at these shows is very exciting. It give us a chance to get in front of a ton of operators in a short amount of time," explained Andy Rasico, Marketing Manager for iCOMBAT. "It's also a great experience for operators to come check out the latest and greatest while seeing what the rest of the entertainment industry has to offer."