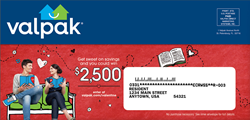 Valpak is your destination for gift coupons, romantic recipes, frugal ways to celebrate, and gift guides
ST. PETERSBURG, FL (PRWEB) January 30, 2015
Roses are red, coupons are blue…this Valentine's Valpak has something special for you!
It's a Valentine's Day love fest at valpak.com/valentine, so for consumers shopping for someone special, their kids or looking to treat themselves, Valpak is the destination for gift coupons, romantic recipes, frugal ways to celebrate and gift guides. Savers that stop by Valpak.com through Feb. 14 will have the chance to enter the Sweetheart Sweepstakes for a chance to win $2,500. Connect with Valpak on Instagram and Twitter for some social giveaways and a party that will be irresistible!
With the trend of singles celebrating on the rise and many choosing V-Day to dine out, hang out or treat themselves, Valpak is inviting consumers to "Be Your Own Cupid" with an Instagram sweepstakes for a chance to win one of four $100 gift cards:
1. Take a photo: Snap a phone pic of how you "treat yourself on Valentine's Day"
2. Upload it: Upload the photo to Instagram and set your profile to public
3. Tag it: Be sure to tag the photo with #BeCupidSweeps and @ValpakCoupons to be entered
Join Valpak on Twitter @ValpakCoupons for a #All4Cupid chat fest on Tuesday, Feb. 10 @1PM to talk about last minute Valentine's Day gift ideas, recipes and unique ideas for celebrating.
Discover more about Valpak®
Valpak is at the heart of communities across North America, helping people save, businesses grow and neighborhoods thrive through a network of local franchises in the U.S. and Canada. Our marketing consultants live and work in your neighborhood, and we can help you take the guesswork out of advertising with real-world marketing solutions that drive measurable results. From the mailbox to online to mobile devices, Valpak continues to find innovative ways to connect businesses with consumers. Monthly, close to 40 million homes receive The Blue Envelope® of savings and nearly 70 million shoppers visit valpak.com for coupon codes and offers. Backed by the muscle of Cox Target Media, Inc., your local Valpak office has the means and know-how to custom build a marketing campaign that meets your needs and budget. Let us introduce you to the neighborhood. Call Valpak at 1-800-676-6878.
About Cox Media Group
Cox Media Group is an integrated broadcasting, publishing, direct marketing and digital media company that includes the national advertising rep firms of CoxReps. Additionally, CMG owns Cox Target Media, which operates Valpak, one of North America's leading direct marketing companies, and Savings.com, a leading online source for savings. The company's operations currently include 14 broadcast television stations and one local cable channel, 59 radio stations, seven daily newspapers and more than a dozen non-daily publications, and more than 100 digital services. CMG currently operates in more than 20 media markets and reaches approximately 52 million Americans weekly, including more than 31 million TV viewers, more than 3.5 million print and online newspaper readers, and more than 14 million radio listeners. For more information about Cox Media Group, please check us out online at http://www.coxmediagroup.com.