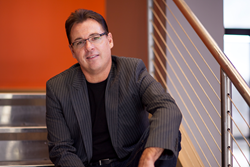 "We are tasked in building an agency that is centered on delivering creative excellence at each and every customer brand touch-point." - Patrick Kelley, Chief Creative Officer
Scottsdale, Arizona (PRWEB) January 30, 2015
Martz Parsons, a top-ranked, full-service advertising and public relations agency based in Scottsdale, has hired Patrick Kelley, as its new Chief Creative Officer. Kelley has 20-plus years of marquee agency experience and has worked at several of the top creative shops in the world on brands that run the gamut from Xerox Corporation to Burger King and General Motors.
Prior to joining Martz Parsons, Kelley worked as the Vice President, Regional Creative Director at J. Walter Thompson Chicago and Executive Creative Director at TMP Worldwide Chicago. Most Recently Kelley worked at MBA in Indianapolis, Indiana where he was a partner and the Chief Creative Officer.
As CCO at Martz Parsons, Kelley brings an arsenal of experience and talent that he uses to drive creative excellence across all client brands and to ensure overall agency success and growth. Part of Kelley's overarching mission is to develop a world-class creative department comprised of talented individuals that not only live and breathe creative excellence, but also have the experience and portfolios to back it up.
"My job is to make sure the creative product across both digital and traditional platforms is, quite frankly, better than the rest," said Kelley. "We are tasked in building an agency that is centered on delivering creative excellence at each and every customer brand touch-point. My charge to my team¬¬? Well, just do great work, the rest comparatively, is easy."
Kelley's years of experience in building successful brands and "hot" creative shops will bring essential leadership and knowledge to the MP agency as it matures and eventually becomes one of the most coveted creative shops in the Country.
"Bringing in Patrick was essential to the Agency as we continue to expand our services and better serve both our clients and the community," said Carrie Martz, President and CEO of Martz Parsons. "Our efforts to build upon and grow our Agency capabilities for our current and prospective clients was our main reason for hiring someone like Patrick."
Kelley and his wife Marisa have two children, Daniella and Christina. In his free time Kelley enjoys playing the guitar, traveling to exotic locations and collecting antiques, history and all things mid-century modern. He is also very passionate about art. He is an avid writer and painter with work that has been shown around the country.
Kelley is always looking to add top-notch talent to the team. For more details about Martz Parsons, please visit http://www.martzparsons.com.
About Martz Parsons
Martz Parsons, a YAM Worldwide business is one of the top 20 advertising and public relations firms in Arizona with more than 30 years of experience. Martz Parsons provides a full range of marketing and public relations services to the agency's diverse clients. The full-service agency offers local, national and international advertising and strategic marketing services such as creative, media, branding, promotions, collateral, social media, research and interactive media. Learn more at http://www.martzparsons.com.
About YAM Worldwide, Inc.
YAM Worldwide is based in Scottsdale, Arizona. Privately held since its formation, YAM Worldwide, Inc. employs more than 225 Arizonans and 70 Mississippians. The company is home to the entrepreneurship operations of Bob Parsons, best-known as the founder and executive chairman of GoDaddy, in the fields of power sports, golf, real estate, marketing, innovation and philanthropy.
Core businesses include LZ Delta, L.L.C. which owns Harley-Davidson of Scottsdale, Go AZ Motorcycles and Spooky Fast Customs, MS LZ Delta, L.L.C which owns Southern Thunder Harley-Davidson and alternate retail outlets Graceland Harley-Davidson and Blues City Harley-Davidson, Scottsdale National Golf Club, MP Agency, L.L.C., YAM Capital, The Bob & Renee Parsons Foundation and eight commercial real estate properties in the greater Phoenix area.
###
Media Contact: Diane Smith, Martz Parsons, dsmith(at)martzparsons(dot)com, 480-998-3154