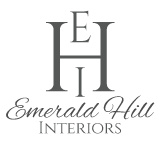 Baltimore, Maryland (PRWEB) February 02, 2015
The firm was founded by the late Amanda R. Austin in 2007. Ms Austin passed away in August 2013, and wished for her experienced team to carry on and fulfill their passion of providing customers with comfortable and stylized home interiors. The new name also represents their Federal Hill roots, where the company was originally established and located for the last 8 years.
Now led by longtime designers Jackie Bayer, Sadie Johnson and CFO Carla Snider, Emerald Hill Interiors is committed to providing exceptional design that reflects each homeowner's personal aesthetic. "We have always felt that our company was different from others--being a small company allows us to tailor our services and client relationships to each individual. We treat each project differently from the next, while still applying the same talent and fine tuned skill set that we have become known for," said Jackie Bayer, one of Emerald Hill's Design Directors, and co-owner.
"Our new name is a reflection of our ongoing design philosophy to ground refinement by adding a touch of warmth and nature," added Sadie Johnson, Design Director and co-owner.
This month, the company also announces their new website, http://www.emeraldhillinteriors.com. Customers and partners will notice the brand change immediately, but should continue to expect the same customer focus and design excellence the company has always delivered.
About Emerald Hill Interiors:
Emerald Hill Interiors is a full-service Interior Design firm that specializes in all levels of design services from full renovations to just one room. The firm's goal, say designers Jackie Bayer and Sadie Johnson, is to provide clients with beautiful spaces that suit their needs & budget. Jackie and Sadie, who both hold degrees in Interior Design, and Carla Snider, the company's CFO, are proud of the boutique nature of their business and work closely with clients, ensuring a personal touch. The firm was recently named one of HGTV.com's Fresh Faces of Design 2014 and was awarded Best of Houzz in 2014 & 2015.
For more information, visit http://www.emeraldhillinteriors.com.
Contact:
Jackie Bayer
jackie(at)emeraldhillinteriors(dot)com
Phone #443.759.6177
jackie(at)emeraldhillinteriors(dot)com
http://www.pinterest.com/amandaaustinint/
https://www.facebook.com/AmandaAustinInteriors?ref=hl
Emerald Hill Interiors
1020 S. Charles Street
Baltimore, MD 21230