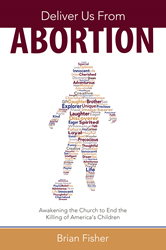 "Someone considering abortion must understand there are tens, if not hundreds, of people in their communities that will stand with them, tangibly help them, and walk with them through pregnancy and beyond--we can do this together"
Dallas, Texas (PRWEB) January 30, 2015
After a national media blackout of a gathering featuring more than 200,000 people in our nation's capital, founder and president of the Media Research Center, Brent Bozell says, participants in the March for Life on the 42nd anniversary of Roe V. Wade are quickly realizing, "if you are standing up for the most vulnerable in society [the unborn], the media turn a deaf ear."
According to Brian Fisher, author of the recently released Deliver Us From Abortion: Awakening the Church to End the Killing of America's Children and president of Online for Life, it's now time for the human designated support system, the church, to stand up for the voiceless to end the abortion holocaust in America.
"Someone considering abortion must understand there are tens, if not hundreds, of people in their communities that will stand with them, tangibly help them, and walk with them through pregnancy and beyond--we can do this together," Fisher argues.
In Deliver Us From Abortion, Fisher uses personal testimony and experience to reveal the human and deeply personal side of abortion. His eye-opening account breaks the veil of silence surrounding the procedure, uncovers the inconsistencies in church attitudes toward abortion, and lays bare what the Bible really says about the issue.
Fisher also calls upon church leaders to stand up and help the defenseless by offering a blueprint for the American church that is both instructive and encouraging.
Deliver Us From Abortion: Awakening the Church to End the Killing of America's Children is just one of many tools Fisher uses to compassionately reach out to those who do not understand the reality underlying this epidemic, as well as to individuals who equip others that can influence and ultimately help end abortion in America.
For more information, visit http://www.DeliverUsFromAbortion.com
###
Brown Christian Press is a Division of Brown Books Publishing Group based in Dallas, Texas. Founded by Milli Brown in 1994, Brown Books Publishing Group is a full-service, independent publisher of high-quality books across all genres, from non-fiction to fiction. Committed to producing award-winning books for authors who choose to retain the rights to their intellectual property, Brown Books publishes more than one hundred titles a year and has won numerous, prestigious awards including the Writers Digest Grand Prize, Mom's Choice Awards, Foreword Book of the Year, Gold Ink Award, Axiom Business Book Award and many more.