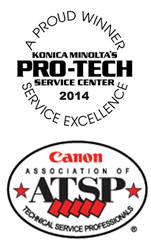 We are proud to showcase the Konica Minolta Pro-Tech Service Award mark of distinction as it symbolizes our commitment to offering the best business practices in our marketplace.
Minneapolis, MN (PRWEB) February 03, 2015
Loffler Companies is dedicated to ensuring their clients are served and supported by the best team in the industry. From eight years of Konica Minolta Pro-Tech certification, to becoming one of the first six private dealers in the country to have technicians achieve associate-level certification in Canon Technical service competency and knowledge, to earning a top ranking in the U.S. for First Call Effectiveness, Loffler's team of elite technicians and customer service professionals do their best to keep organizations running at top productivity and efficiency levels.
Loffler Companies headed by Jim Loffler, President and CEO, is dedicated to delivering professional, reliable service and maximum performance for Konica Minolta's award-winning lines of digital imaging products. To attain the Pro-Tech standard, each element of Loffler Companies' operation was evaluated and measured, including its management skills, inventory control systems, technical expertise, dispatch systems and customer satisfaction ratings.
"The Pro-Tech Service Award represents Konica Minolta's gold standard for service competence and proficiency. There is no higher honor for an authorized Konica Minolta dealer partner and Loffler Companies should be very proud of its achievement," says James Ingrassia, vice president, solutions support division, Konica Minolta Business Solutions U.S.A., Inc.
"We are proud to showcase the Pro-Tech Service Award mark of distinction as it symbolizes our commitment to offering the best business practices in our marketplace," said Jim Loffler. "This award certifies to our customer base that we have the skills, people and systems to keep their Konica Minolta equipment operating at the highest level of productivity. Additionally, it provides our customers another great reason to count on Konica Minolta and Loffler Companies for all of their printing needs."
The Canon ATSP certification enables technicians to show their efficiency at servicing Canon products and empowers savvy dealerships to differentiate themselves from other competitors in the marketplace. When a client sees the Canon ATSP logo, they can be assured that the technical support professional responding to their call has the highest industry standard of service certification and manufacturer-backed training to effectively solve any problem. In addition, Loffler earned top ranking in First Call Effectiveness from an independent third party, a result of professionally certified technicians responding in a three-hour time frame and fixing devices right the first time. This expertise enables devices to run for an extended period and maximizes client uptime.
"We are exceptionally proud of our experienced, knowledgeable and friendly technicians who continuously strive to exceed the expectations of our clients," said Brian Patterson, Loffler Imaging Services Manager. "It's their commitment to learning all they can and using that knowledge to keep our clients productive, efficient and happy, that sets them a step above the competition."
About Loffler Companies
Founded in 1986 by Jim Loffler, Loffler Companies provides business technology and services to improve a client's productivity and bottom line results. Offerings include multifunctional copiers and printers (Canon, Konica Minolta, HP, Toshiba, Océ, Lexmark), managed print services, software and workflow technologies (uniFLOW, eCopy, etc.), IT solutions, VoIP phone solutions (unified communication with NEC and ShoreTel), and on-site people-based management of copy centers and mail rooms. Today, Loffler has almost 400 employees supporting Minnesota and Western Wisconsin clients whose businesses are local, national and international in scope. For more information about Loffler Companies and how it can help your organization succeed, please call Loffler at (952) 925-6800 or visit http://www.loffler.com.