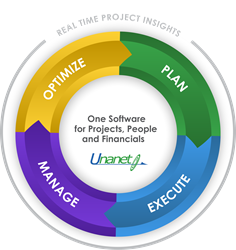 Dulles, VA (PRWEB) January 30, 2015
Unanet, a developer of professional services automation software that helps organizations manage people and projects for improved profitability, is a sponsor of the 2015 GovCon Symposium: Riding the Industry Roller Coaster.
The Symposium, hosted by the Fairfax Chamber of Commerce, will take place on February 26 at the Hyatt Regency Reston from 7:30 AM – 12:00 PM. The conference begins with registration, networking, and an exhibit hall, followed by a Keynote. The Keynote will be given by Don Baptiste, who is the Co-founder and Head of Bloomberg Government.
Breakout session topics include: 'View of the Landscape from Top CEOs', 'M&A', and 'Opportunities in Cyber Security'. The panelists are from the following companies: American Systems, Bank of America/Merrill Lynch, Computer Sciences Corporation, CyTech Services, Deloitte Touche Tohmatsu Limited, Eagle Ray, Haystax Technology, Houlihan Lokey, Lunarline, Inc., McGladrey, Systems Made Simple, Varen, and Vistronix. The Cyber Security panel will be moderated by Steve Bittner, Senior Vice President, Professional Services with Unanet.
In the Spring of 2015 Unanet is launching a full set of financial management capabilities to add to its best-in-class project and people management product. Unanet's software, available in the cloud or On Premise, includes General Ledger, Accounts Payable, Account Receivable, Indirect Rates and Cost Pool Calculations to address the needs of government contractors, and other professional services firms. With one software product for projects, people, and financials, CFOs, COOs, and VPs of Finance and Operations can spend more time participating in and driving strategic direction - shifting the focus from transactions to transformation. Unanet will provide software demonstrations from its exhibit table throughout the GovCon Symposium.
About Unanet:
Unanet is a leading provider of Cloud or On-Premise software for project-based organizations. Unanet delivers skills management, resource planning, budgeting & forecasting, time & expense reporting, billing & revenue recognition, and project management reporting. Over 1,000 organizations rely on Unanet to maximize staff utilization, reduce administrative costs by 90%, improve invoicing by 10X, and support forward decision-making for improved operations.