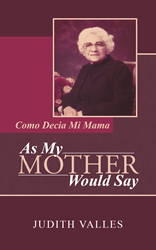 This is a reminder of what we as Latinos must not lose.
SAN BERNARDINO, Calif. (PRWEB) February 02, 2015
Everyone knows that mother knows best.
Former Mayor of San Bernardino, Calif., Judith Valles details the secret to her professional and personal successes in her new book, As My Mother Would Say. While recounting Spanish sayings her mother used to tell her as a child, known as "dichos," Valles encourages preservation of time-honored Latino wisdom that readers from all walks of life can apply in their daily lives.
"Some of the sayings may sound a bit earthy and perhaps not too sophisticated," Valles said. "But they oftentimes reflect what one is thinking, though we lack the courage to say it out loud."
While As My Mother Would Say can be used as a valuable tool in developing leadership skills for readers of any ethnicity, Valles said her book also contains an important message of preserving Spanish culture.
"This is a reminder of what we as Latinos must not lose, and at the same time a hope that those who are not Latino may develop a better understanding of us," Valles said.
As My Mother Would Say: Como Decia Mi Mama
By Judith Valles
ISBN: 978-1-4917-4437-6
Available in softcover and e-book
Available on Amazon, Barnes & Noble and iUniverse
About the author
Judith Valles served two terms as mayor of San Bernadino, Calif., from 1998-2006, making her the first Latina to be elected mayor of a U.S. city over 100,000 in population. A woman of firsts, Valles was also the first Latina president of a California community college from 1988-1995. She is currently retired, but holds various positions on multiple councils in her hometown of San Bernardino.
# # #
**FOR IMMEDIATE RELEASE**
For review copies or interview requests, contact:
Jennifer Uebelhack
317.602.7137
juebelhack(at)bohlsengroup(dot)com