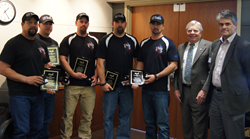 Congratulations to Colorado Springs Utilities' team, Explosive Limit.
Eagan, MN (PRWEB) January 30, 2015
MEA's President, Patrick Van Beek, presented the 4 person championship team, Colorado Springs Utilities' (CSU) team, "Explosive Limit", with their championship rings at CSU's recent Utilities Board Meeting. Over 50 teams from across the United States competed in the event, drawing more than 600 people to Colorado Springs to support the teams.
"The National GAS Rodeo competition provides an opportunity for natural gas operations personnel to showcase the unique skills and abilities to be the best," says MEA President, Patrick Van Beek. "The series of events require safety, speed, accuracy, and strength. The 2014 National Champions Explosive Limits from Colorado Springs Utilities really embodies the teamwork, dedication, and focus needed to be the best."
MEA and the National GAS Rodeo are proud to recognize the CSU team for their sportsmanship, skills, and excellent performance at the 2014 National GAS Rodeo.
CSU's "Explosive Limit":

Rafael Rivera – Team Captain, Pipefitter Specialist
Josh Richard – Pipe Fitter Apprentice
Paul Gross – Pipe Fitter Apprentice
Rich Hill – Gas Crew Supervisor
For information about the event or to register go to http://www.nationalgasrodeo.org or contact John Gann at (651) 289-9600 x105, or johng (at) midwestenergy (dot) org. The 2015 National GAS Rodeo will take place August 27-29, 2015 in Colorado Springs, CO.
About the National GAS Rodeo:
The National GAS Rodeo is the proving ground for the elite gas crews from across the United States. The intense competition and camaraderie of the Rodeo offer competitors an opportunity to showcase their skills and professionalism. The National GAS Rodeo is proudly administered by Midwest ENERGY Association and supported by American Gas Association, American Public Gas Association, and Southern Gas Association.
About MEA:
MEA serves the people that deliver electricity and natural gas to homes and businesses. MEA (Midwest ENERGY Association) was founded as a trade association over 100 years ago by distribution utilities, whose vision was to improve safety and efficiency. Today, companies around the globe benefit from MEA's industry learning seminars, operations summits, and other events. Members collaborated to develop EnergyU, the world's premier online training and testing system for gas and electric distribution utilities.