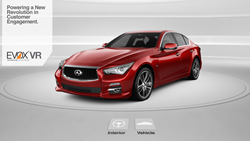 EVOX VR is poised at the beginning of the VR Headset technology boom to provide ground breaking assets.
Rancho Dominguez, CA (PRWEB) February 02, 2015
EVOX VR™ demonstrated its Automobile Virtual Showroom on the new Samsung Gear VR™ with the Samsung Note 4™ smartphone in San Francisco last week during the 2015 NADA Convention. The EVOX Virtual Showroom demonstration allows the user to get inside different cars, choose colors and options, and get information on vehicle features.
Since its inception in 1995, EVOX IMAGES® mission has been to change the way we view cars. It is the largest and leading provider of 360-degree automobile imaging. The company has now translated its unique capabilities into automotive Virtual Reality content. In addition to its leading capability in stereoscopic 360 degree imaging, EVOX invested in scalable Computer Generated Imaging needed to power Virtual Showrooms.
"EVOX VR is poised at the beginning of the VR Headset technology boom to provide ground breaking assets that will suddenly put Virtual Reality in the hands of the consumer. This marks the beginning of the move from 2-dimensional screens to immersive media. Car dealers and marketers will now have the ability to transport you into virtual showrooms without leaving your home." said David Falstrup, CEO EVOX Images.
EVOX™ is in full production of a comprehensive VR Image Database of US Automobiles. This library consists of high quality Interior and Exterior 360 degree Stereoscopic images for use with Oculus Rift™, Samsung Gear VR™, Google Cardboard™ and other mobile and desktop VR headsets.
To learn more about EVOX VR or to experience it for yourself, please visit evoxvr.com on your mobile smart phone and view with Google Cardboard and similar VR mobile headsets.
About EVOX IMAGES
EVOX IMAGES™ Driving Innovation in Automotive Imagery™
EVOX provides rapid large-scale global image creation solutions on demand with a focus on automotive VR and 360 images. In addition, our automobile stock image database offers the absolute, most complete package of consistent still and 360 vehicle imagery on an unmatched delivery schedule and highest quality. EVOX captures vehicle photography and CGI globally and without needing access to the manufacturer CAD files.

Global Build-To-Order VR Content Creation and Comprehensive Automotive Stock Image Database
Providing highest-quality high-speed content solutions to Automotive OEMs and Agencies worldwide
Licensed for 22,000 dealer websites and the top automotive portal sites
More than 1 million car images 24/7 on http://www.evoxstock.com