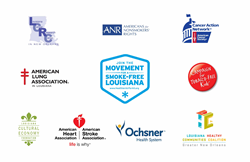 New Orleans, La, (PRWEB) January 30, 2015
The Coalition for a Tobacco-Free Louisiana (CTFLA) applauds New Orleans Mayor Mitch Landrieu and the New Orleans City Council today for signing off on the historic smoke-free ordinance that passed the Council unanimously last week. By Mayor Landrieu giving final sign-off today, New Orleans officially takes the bold step in favor of protecting the health of all New Orleans employees by making all workplaces, including bars and gaming establishments, smoke-free.
The smoke-free measure, championed by Councilwoman LaToya Cantrell and co-sponsored by Councilwoman Susan Guidry, ensures that all employees, including bartenders, gaming facility employees, and entertainers, will be protected from the dangerous health effects of secondhand smoke in the workplace. The ordinance will go into effect in 90 days.
"We greatly appreciate the Mayor and the entire City Council for this brave step and their ability to see the importance of a smoke-free New Orleans," said Tonia Moore, Associate Director, the Louisiana Campaign for Tobacco Free Living (TFL). "With the Mayor's sign off today, New Orleans will start 2015 off right with a protected and healthy workforce, entertainers who can breathe clean air and patrons and visitors who will get to enjoy more of our bars and music venues than ever before."
"Mayor Landrieu and the City Council have grabbed the nation's attention by signing a smoke-free ordinance into law," said Jennifer Cofer, Vice President, Public Policy and Health Promotions, American Lung Association of the Southeast. "The courage of passing this ordinance has already had resounding effects as numerous other cities in Louisiana and across the U.S. have taken notice. We look forward to working with those who step up and choose to protect their employees and entertainers health above all else."
"Today's action by Mayor Landrieu, on the heels of last week's historic vote by the City Council, is a truly landmark victory for the people of New Orleans," said Susan M. Liss, Executive Director of the Campaign for Tobacco-Free Kids. "This victory is for the thousands of workers who will now be able to breathe clean air on the job. It's a victory for the millions of residents and visitors to the state who will be able to enjoy the city's countless offerings free from the serious health hazards of secondhand smoke. This world-class tourism and convention capital now has even more reasons for national acclaim as it joins the ever-growing list of cities and states with comprehensive smoke-free laws. Thank you, Mayor Landrieu, for making this dream a reality."
"We commend the Mayor for signing this ordinance which will be vital in protecting the health of workers in New Orleans," said Donna Williams, DrPH, Director, Louisiana Cancer Prevention and Control Program. "We know that tobacco is the number one cause of preventable death and disease in Louisiana and applaud all efforts to curb its deadly effects."
"The Mayor and the City Council have made the health of New Orleans a priority," said Stasha Rhodes, Louisiana Government Relations Director for the American Heart Association.  "We applaud their efforts for this monumental triumph for all workers in New Orleans."
"Today the Big Easy will be breathing a little more easily," said Ryan West, Louisiana government relations director, American Cancer Society Cancer Action Network (ACS CAN). "New Orleans has taken the bold step of putting the health of its citizens and tourists first. Going smoke-free in bars and casinos will prevent countless cancer diagnoses and save lives."
More than 6,500 Louisianans die from smoking-related causes yearly and costs Louisiana almost $1.5 billion in health care costs every year. The evidence on secondhand smoke's toll on public health is clear. Secondhand smoke contains more than 7,000 chemicals, hundreds of them are toxic and at least 69 cause cancer. In addition, the Surgeon General has found that secondhand smoke causes heart disease and lung cancer in nonsmoking adults and respiratory problems, sudden infant death syndrome, and low birth weight in infants and children.
###