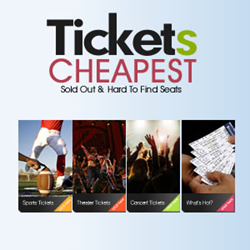 New Kids on the Block tickets for their upcoming Main Event Tour, featuring special guests TLC & Nelly, released for the public to buy today. Fans may buy tickets for all upcoming concerts at TicketsCheapest.com online even when the box office is sold out.
Boston, MA (PRWEB) January 31, 2015
New Kids on the Block recently announced their Main Event Tour for 2015. They will be joined by special guests TLC and Nelly. The group performs in more than thirty US cities including Boston, Pittsburgh, San Jose, Columbus, Charlotte, NC, Uncasville near Hartford, CT, and Uniondale, NY, near New York City on Long Island. Immediately following their concert at the Nassau Coliseum in Uniondale, New Kids On The Block plays Madison Square Garden in New York City for back to back MSG shows on June 21 and 22. In addition to US cities, the group makes stops in Canadian cities like Vancouver, Toronto and Montreal.
New Kids on the Block formed in Boston, MA, around 1984 and found success in the late 1980s and early 1990s. The group has received 2 American Music Awards. Known for songs like "You Got It (The Right Stuff)," "Step by Step", "I'll be Loving You (Forever)," "Please Don't Go Girl" and "Hanging Tough," the band broke up in 1994 but reunited years later and released a CD entitled "The Block" in September of 2008. They also toured 2011-2012 with The Backstreet Boys. The group also received a star on the Hollywood Walk of Fame in 2014. Present members include Donnie Wahlberg, Jonathan Knight, Jordan Knight, Joey McIntyre and Danny Wood.
Fans in the New York City area will find TicketsCheapest.com provides tickets for all of the other major MSG events in 2015 besides New Kids on the Block including, Billy Joel, performing monthly shows, Ariana Grande, U2 performing 6 shows in July and Maroon 5, playing 2 shows at Madison Square Garden in March preceded by a show at TD Garden in Boston. Look for Maroon 5 performing shows in Atlanta at the Philips Arena, Dallas at the American Airlines Center, and Kansas City at The Sprint Center, where New Kids on the Block will also be performing during their Main Event Tour. Taylor Swift also visits the Sprint Center in 2015, not to mention New York, Boston, Columbus, Houston, Pittsburgh, Nashville and most other cities visited by New Kids On The Block.
New York City sports fans may find New York Rangers, Nets, Giants, Jets, Yankees, Mets and Knicks game tickets too. They can even buy 2015 New York Yankees tickets right now. Those in New York City who prefer theater should look at Financial Firebird's Ticket-Broadway.com site for cheap tickets to Broadway plays and musicals as well as Lincoln Center performances. To make a mini vacation centering on a MSG concert, let BroadwayTicketPackages.com combine ticket discounts with a great hotel, dinner and $50 off of a future concert or theater tickets.
Following concerts at Madison Square Garden, NKOTB will perform at TD Garden in Boston, MA. TD Garden hosts other events including Disney on Ice Frozen from February 13-22, Iggy Azalea in May and four U2 concerts in July. Boston sports fans can find Celtics, Bruins and Boston Red Sox game tickets at TicketsCheapest.com online.
Find the right New Kids On The Block tickets online or by phone at 855 805 5266 for professional personal assistance.
About Financial Firebird and Tickets Cheapest:
The sites to buy cheap concert tickets online, and its sister sites, including the site to purchase Broadway show tickets, are affiliated with the Financial Firebird Corporation Travel Group. Financial Firebird Corporation, established in 2000 and a proud BBB member, provides unbiased consumer information, software and marketing services. These sites for consumers to buy tickets online operate in the resale market and maintain no relationship with the venues or performers. The resale ticket market allows consumers access to events once the box office has sold out or to buy premium seats when the venue no longer offers any inventory. Within the group of these secondary market ticket services, the Financial Firebird owned ticket sites offer lower prices than competitors. Find the sites at TicketsCheapest.com online.