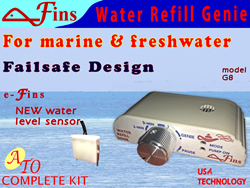 Now it makes sense to automate water top off for any aquarium
Temple City (PRWEB) January 31, 2015
All aquariums lose water through evaporation. Some lose more and some lose less depending on the weather at the place and types of aquarium being kept. Saltwater tanks especially reef tanks can lose up to a few gallons a day due to strong lighting required to keep the corals healthy and cooling fans to lower tanks' temperature.
Refilling water regularly for those tanks is especially important in order to maintain stable salinity and success in raising the most sensitive inhabitants in the fish keeping hobby.
But manual refilling can be a very demanding and challenging chore for most hobbyists. Fortunately there are quite a few Water Auto top off (ATO) products on the market to help automate the process albeit most of them have issues of under and over dispensing water in situations like sensors or electronics failure, water reservoir is dry, pump failure or tank is leaking.
Every ATO system requires a constant water supply that typical comes from a water container to serve as the reservoir or directly from the household's water filter system. The other integral component of course is the water level sensor which helps closing the control loop of maintaining certain water level in a tank. The mechanism is like this; when the sensor detects that water is below its sensing point, water is allowed to refill the tank from the reservoir or household's water filter by turning on a pump, a mechanical or electronic valve and stopped when the water level reaches the set level.
Over the years, many water level sensors have been developed from the simplest mechanical float valve similar to what is used inside a toilet flush, magnetic coupled electric float switch to more complicated air pressure differential, optical, electric field, temperature and analog based sensors that require additional electronics for them to function properly.
You can see, it is quite challenging for a hobbyist nowadays to pick out one ATO system that works perfectly for his or her tank. It is because every system has its weakness in avoiding over and under dispensing water into the tank that can spell disasters far worse than just neglecting to refill the tank regularly when operating without one.
The unavoidable failure modes facing every ATO system include the following:
1) Reservoir is empty
2) Sensor malfunction
3) Pump or valve malfunction
4) Tank is leaking
5) Power outage
6) Siphoning issue when water level in reservoir is higher than tank
7) Main tank circulation pump failure
Several advanced ATO systems including the e-Fins Water Refill Genie employ modern microcomputers and sophisticated software algorithm to allow minimum impact when the above conditions occur. But since every ATO system depends on its perfectly functioning water level detecting sensor, it is important to understand their characteristics before choosing an ATO system for your tank.
Mechanical float valve – Need a sump for installation, Bulky, harder to install, not every accurate level, malfunction when blocked, tend to fail in time when the float gets water intrusion and becomes non-floating.
Electric float valve – Bulky, harder to install, not very accurate, malfunction when blocked.
Air pressure differential – Bulky, harder to install, not accurate (up to 1 inch of water difference before triggering), easy to be dislodged.
Optical – harder to install, easily affected by tank's lighting, algae build-up, waves and water bubbles.
Electric field – Bulky, harder to install with limited tank glass thickness allowed, easily affected by algae build-up and water bubbles, need regular calibration for proper sensing.
Temperature – Bulky, slow response time, easily affected by waves.
Analog – Very hard to manufacture to guarantee sensor probes do not get corroded over time.
The soon coming out e-Fins Water Refill Genie employs the analog method as its sensor with the smallest profile and size than any other kind. It is made by special processes to guarantee that it will never corrode. It remains in perfect condition for years and not affected by waves, bubbles, algae, debris, lighting, snails and other environmental conditions. The sensor has an embedded strong rare earth magnet that can easily be set at any position and orientation on a tank glass up to 0.6" thick when magnetically held in place by another external magnet piece. It can be placed either in the main display tank or in the sump. Thanks to its small size and flexible orientation, the water level can be set at up to 0.5" below the rim of a sump or main tank. The water level accuracy is within 0.1 inch which is better than any other sensor types.
What makes this new ATO even more special is its system approach to provide a complete kit that works for any aquarium setup; whether it is reservoir based pump / gravity fed or direct RO filter machine fed setup. Everything is included in the kit from pump, solenoid valve, industry best water level sensor, computer control unit, UL power supply, hoses and installation accessories.
The e-Fins Water Refill Genie ATO system also eliminates the most common siphoning issues in reservoir based setup where the water level in the reservoir can be higher than the sump. Now, there is no restriction on how and where you provide a constant water supply to your tank.
With the user friendly computer control unit, it offers 4 easily selectable operating modes to fit user's need and a pause mode for tank maintenance. Its proprietary algorithm, the Genie operation mode, provides ultimate yet simple and effective fail safe features that stop normal operation and alarm you when reservoir is low, pump or solenoid valve fails, tank leaks and even a blocked overflow in the tank.
So, next time when you are ready to choose an ATO system, don't forget to consider the latest addition and technology from this new product.