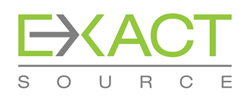 The onboarding module is another way for firms to save time and money while allowing the Human Resources Department to focus on the people, not the paperwork.
Atlanta, GA (PRWEB) January 31, 2015
ExactSource, a national leader in the delivery of talent solutions and software to architectural and engineering firms, has just released the Employee Onboarding module to their Applicant Tracking System, ExactTrack.
The new module offers an electronic paperless solution that streamlines the employee onboarding process by taking a new hire packet including W-4, I-9, 401K, Direct Deposit and other forms and combining them into one electronic portal.
The employee answers a series of questions one time and the information entered is populated across all forms. This process cuts down on employee data entry time and on errors. Both the Human Resources Manager and the employee have access to all of the forms at their fingertips.
ExactTrack Employee Onboarding Software cuts down on the time new hires spend completing paperwork by streamlining form completion and encouraging employees to complete paperwork online, legibly and without redundancy. The onboarding module offers electronic signatures, unlimited online secure storage, and on-demand printing.
The ExactTrack Employee Onboarding Module is the latest software solution released by ExactSource, a company that is bringing state-of-the-art solutions to support talent sourcing needs at every level in the A/E/C industry. In 2013 the company developed ExactTrack, an applicant tracking system designed specifically with engineering firms in mind. In addition to software sales, ExactSource offers technical and leadership recruiting, market research, online education, and consulting services.
About ExactSource
ExactSource is the leading recruiting, organizational consulting, market research and software solutions company providing services to firms in the Architectural and Engineering sector.
ExactSource is best known in the A/E/C industry for their highly acclaimed ExactProfile technology, a system released in 2012 that assesses and catalogues more than 115 critical engineering skill sets and experience levels that aren't typically identified on a resume. Using this breakthrough screening software, HR managers are able to instantly identify the technical candidates that meet their exact requirements. This methodology provides a smarter way to hire and it is the objective of ExactSource to have every A/E/C firm across the country using ExactProfiles as part of the hiring process.
ExactSource brings a combined 151 years of experience in technical and leadership recruitment and has established a prominent presence in the Engineering community. The company successfully serves firms in 39 states across the nation, including over 20 firms on the Top 500 A/E list.
For more information about ExactSource and their consulting, research and recruiting services, visit their website or contact David Schmidt at dschmidt(at)exactsource(dot)com.