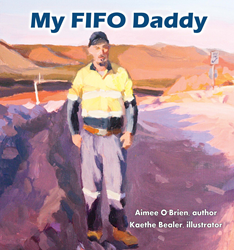 Meadow Springs, Western Australia (PRWEB) February 04, 2015
Meadow Springs, Western Australia - Inspired by her own family's experience, author Aimee O'Brien weaves a beautiful and inspiring children's book to share the life and the daily ups and downs of having a parent, who works away from home for weeks at a time. My FIFO Daddy is a great read for those families who have a Fly In, Fly Out kind of life.
Books are a great way to talk to kids about difficult issues. The intention of this book is to help kids better understand the very complicated emotions they may feel from having a parent work away for weeks at a time.
My FIFO Daddy tells the story of FIFO (Fly In Fly Out) life as told through the eyes of a young girl. It's about the ups and downs of missing her Daddy and the value of the small things like quality time together that make all the difference. This book focuses on how to feel positive and happy even when a person misses someone and how to share each other's lives even when families are a plane ride apart.
The author's husband, Rory O'Brien, is a heavy equipment operator whose FIFO career inspired My FIFO Daddy. He is from Auckland, New Zealand. He first met the author in San Francisco where they married, had their eldest 2 kids and then followed his career to this great adventure in Australia. Rory continues to work as a FIFO dad and husband. The author's aunt, Kaethe, donated her beautiful paintings for the book's illustrations. It is a very personal project and they hope the book makes a difference in the lives of other FIFO families.
This book is available online and can be purchased at http://www.bookventure.com, http://www.amazon.com and http://www.barnesandnoble.com.
About the Author
Aimee O'Brien is a children's book author who has degrees in Communications and Rhetoric, Women's Studies, and Veterinary Science. She is from the San Francisco Bay Area, but most recently has spent her time in Western Australia where she was inspired to write My FIFO Daddy. She is a mother of three, a writer, a photographer, and a nurse for animals. She lives near Perth with her husband, kids, and their dog Guinness.
My FIFO Daddy
by Aimee O'Brien
Publication Date: November 2014
Price: $11.64; 32 pages; ISBN 9781941736326
*To request a complimentary paperback review copy, you may contact Laura Tan at Bookventure.com by phone at (877) 276-9751 or by email at info(at)bookventure(dot)com