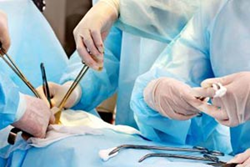 If you've been harmed and would like to learn more about filing a Power Morcellator lawsuit contact The Oliver Law Group for your FREE case review by calling 1-800-939-7878 or visit www.legalactionnow.com
Chicago IL (PRWEB) February 02, 2015
Power Morcellator Lawsuit & Surgery News: A study published online by researchers from Kaiser Permanente found that it's difficult for doctors to detect uterine cancer in fibroids prior to women having a hysterectomy or a myomectomy using a power morcellator. In their study published online by the American Journal of Obstetrics & Gynecology on December 11, 2014, the Kaiser researchers conducted a retrospective review of 3,523 women who underwent a hysterectomy (uterus removal) from 2001 to 2012. Included in the total number of patients, were 941 women who underwent a hysterectomy in which a power morcellator was used. Of the 941 women, 10 women, or 1.1 percent, were subsequently diagnosed with uterine sarcomas or parasitic myomas. Out of the 10 women, six patients had uterine sarcoma. Researchers suggest that women should be counseled about the potential cancer risks when a power morcellator is involved during surgery to remove fibroids.
[ajog.org/article/S0002-9378(14)02379-5/abstract?rss=yes, December 2014]
The study's release comes nearly three weeks after the U.S. Food and Drug Administration (FDA) directed power morcellator manufacturers to add a black box warning, the FDA's most serious warning, on the product labels of their medical devices to warn doctors and patients about the cancer risks associated with the morcellators, notes the Oliver Law Group. Laparoscopic power morcellators slice uterine fibroids and tissue into fragments so that the pieces can be removed through a small incision in the abdomen. According to the FDA, the undetected cancer cells spread as the tissue is removed from the abdomen. In a safety announcement in November, the FDA strongly advised doctors to discuss the cancer risks with their patients and recommended limiting certain patients from receiving laparoscopic morcellation surgery. While the FDA warned doctors against using the medical device, the federal agency did not ban the practice of using power morcellators to remove the uterus or uterine fibroids.
[http://www.fda.gov/NewsEvents/Newsroom/PressAnnouncements/ucm424435.htm?, November 24, 2014]
The FDA issued its first safety alert regarding power morcellators in April 2014, states the Oliver Law Group. In that statement, the federal regulatory agency noted the spreading of cancer during a morcellation procedure can quickly change the stage of cancer from stage 1 to stage 4, the final stage of cancer. According to a quantitative analysis conducted by the FDA based on currently available data, the FDA estimates that about 1 in 350 women who are undergoing a hysterectomy or myomectomy for fibroids has an unsuspected uterine sarcoma. There is a risk that the medical device will spread the cancerous tissue within the abdomen and pelvis, "significantly worsening the patient's likelihood of long-term survival." There is also a risk that the undetected cancer can include leiomyosarcoma, a rare but aggressive form of cancer that develops from smooth muscle tissue in the uterus and is spread by the power morcellator. After the FDA made its announcement in April, Reuters reported that Johnson & Johnson suspended global sales of power morcellators by its Ethicon Endo Surgery division until the company received further direction from the medical community and the FDA on the use of these medical devices.
[http://www.fda.gov/downloads/MedicalDevices/Safety/AlertsandNotices/UCM393589.pdf, FDA, April 17, 2014]
[reuters.com/article/2014/04/30/us-johnson-johnson-device-idUSKBN0DG06G20140430, April 30, 2014]
Court records indicate that women or their survivors are filing Power Morcellator lawsuits against power morcellator manufacturers. In one instance, a wrongful death Power Morcellator lawsuit was filed in December by the family of a Missouri woman who was diagnosed with cancer after she underwent surgery in which Ethicon's Gynecare power morcellator was used. The lawsuit alleges that leiomyocarcoma was spread in the woman by the power morcellator that was used in the robotic hysterectomy the woman underwent in December 2012. According to the Power Morcellator lawsuit complaint, the woman underwent aggressive treatment for the cancer but she died of the malignant leiomyosarcoma in August 2014. The power morcellation lawsuit contends Ethicon knew or should have known about the cancer risks linked with the medical device and the company should have warned about the dangers associated with their power morcellator product. The lawsuit was filed on December 3 in the U.S. District Court, District of Western Missouri. (4:14-cv-01074)
"The issues causing litigation with this product used in surgery effecting women, comes on the heels of historic litigation relating to other medical products involving only women, such as transvaginal mesh used for pelvic organ prolapse and urinary incontinence," states Alyson Oliver of the Oliver Law Group. The Oliver Law Group is involved in helping women who have been harmed due to the use of power morcellators in their surgery. If you've been harmed and would like to learn more about filing a Power Morcellator lawsuit, turn to the law firm with the Experience, Dedication, and Trust you deserve. Contact the law firm Oliver Law Group P.C. for your free case review by calling 1-800-939-7878 today or submitting your information through this site, http://www.legalactionnow.com
Contact Oliver Law Group P.C. To Learn More About Filing A Power Morcellator Lawsuit
The Oliver Law Group P.C. is a different kind of law firm. One that focuses on the needs of the injured first. A compassionate law firm dedicated to fighting for the rights of victims and their families, and doing everything necessary to ensure those rights.
The experience of a large firm. The 1-on-1 dedication of a small firm. A reputation built on trust.
Experience. Dedication. Trust. The Oliver Law Group P.C.
If you've been harmed and would like to learn more about filing a Power Morcellator lawsuit, turn to the law firm with the Experience, Dedication, and Trust you deserve. Contact The Oliver Law Group P.C. for your free case review by calling 1-800-939-7878 today or submitting your information through this site, http://www.legalactionnow.com