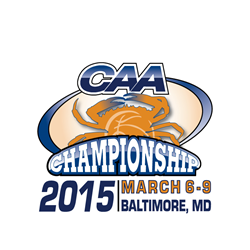 "We thank each and every one of our corporate sponsors for their support, which allows our young men to compete for a spot in the NCAA Men's Basketball Championship."
Baltimore, MD (PRWEB) February 02, 2015
The Colonial Athletic Association (CAA) is pleased to announce its current corporate sponsors for the 2015 CAA Men's Basketball Championship. The tournament returns to Charm City for a second year March 6-9 at Baltimore's Royal Farms Arena.
This year's new sponsors include Domino's Pizza, Buffalo Wild Wings, MedStar Sports Medicine, Armada International Advisors and Renaissance Inner Harbor. In addition, Under Armour is now the Official Athletic Apparel Provider of the CAA. Returning sponsors include Geico, Lumber Liquidators, Baltimore Gas & Electric (BGE), College Savings Plans of Maryland and Phillips Office Solutions. A full listing of the CAA's corporate partners can be found on CAAsports.com.
"This championship wouldn't be possible without our sponsors' support," said CAA Commissioner Tom Yeager. "We thank each and every one of our corporate sponsors for their generous support, which allows our young men to compete for a spot in the NCAA Men's Basketball Championship."
To learn more about becoming a corporate sponsor, contact the CAA by calling 804-754-1616. For those interested in attending the championship, check out the available ticket packages.
The CAA looks forward to hosting another exhilarating championship in Baltimore. The ten-member conference includes reigning tournament champion University of Delaware, College of Charleston, Drexel University, Elon University, Hofstra University, James Madison University, University of North Carolina Wilmington, Northeastern University, Towson University and the College of William and Mary. These teams will battle for an automatic bid to the NCAA Division I Men's Basketball Championship and the competition will certainly be fierce.
For additional information on the CAA Men's Basketball Championship, visit the #CAAHoops Championship Central page.
Follow Us!
Facebook.com/CAASports – YouTube.com/CAASports – Instagram @CAASports –
Twitter @CAABasketball – #CAAHoops & #CAABaltimore!