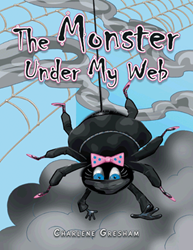 The more we learn about scary things and make them familiar, the leas frightening they are
HOUSTON (PRWEB) February 02, 2015
Rational or irrational, our fears and anxieties can impede our objectivity, decision-making, physical health and mental well-being.
According to KidsHealth, the best way for a child to deal with his or her fears and anxieties is to overcome them.
Charlene Gresham, otherwise affectionately known as Mama G, knows how important it is for people to face their fears and overcome them. She has written a children's book titled "The Monster Under My Web."
"The more we face the scary things in our lives and learn about them, the less frightening they are," Gresham said.
In the story, Anabel the Arachnid lives in the corner of a little boy's room. She spends her time without a care in the world, catching flies and practicing ballet. The eight-legged ballerina's life turns upside-down when the boy whose room she shares receives a gift that terrifies her.
Thinking her only hope is to sabotage the new toy, she descends from her web one night to face the cause of her fears. Anabel learns a valuable lesson: that taking a closer look at the things that frightens you might just make you see them in a new and less-scary way.
For more information, visit http://www.mamagbook.com
"The Monster Under My Web"
By Charlene Gresham
ISBN: 978-1-4969-1973-1
Available in softcover, hardcover, e-book
Available on Amazon, Barnes & Noble and Author House
About the author
Charlene Gresham is a grandmother and retired schoolteacher who likes to write stories for children. She has faced her own fears and self-doubts successfully, becoming a black belt in Tae Kwon Do, a certified scuba diver, stained-glass artist and a world traveler. She lives with her husband near Houston, Texas. This is her second children's book.
# # #
**FOR IMMEDIATE RELEASE**
For review copies or interview requests, contact:
Matt VanScoik
317.602.7137
mvanscoik(at)bohlsengroup(dot)com