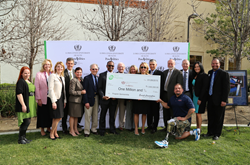 PossAbilities does a wonderful job of getting patients to an optimal state after an injuring experience
Loma Linda, CA (PRWEB) January 30, 2015
Loma Linda University Health (LLUH) PossAbilities was presented with a check on Wednesday, Jan. 28 for $1 million from its new title sponsor, Quest Diagnostics, one of the world's leading providers of diagnostic testing, information and services.
"Today, we begin our partnership with Quest Diagnostics, an organization that shares the same passion as Loma Linda University Health, 'to make man whole,'" said Lyndon Edwards, MBA, MHS, senior vice president, Loma Linda University Medical Center East Campus, Surgical Hospital, Highland Springs Medical Plaza and the Behavioral Medicine Center, during the check presentation. The event was attended by leadership of LLUH and Quest Diagnostics, as well as LLUH patients and members of PossAbilities – the free, non-profit community outreach program for individuals with permanent physical disabilities.
The sponsorship agreement—which officially began Jan. 1, 2015—calls for Quest Diagnostics to contribute $1 million to the PossAbilities program over the next three years.
Jean-Marc Halbout, regional vice president, Quest Diagnostics, said he is looking forward to a very fruitful relationship with PossAbilities. "We are honored and privileged to support this program," he said. "Our mission is evolving, and we are focusing on action that will make a difference in health care, transforming the lives of the patients we serve."
Monies from the Quest contribution will be used to fund the various activities hosted by PossAbilities including the Road to Rio program, the annual triathlon, youth camps and mentorships, the Redlands Bicycle Classic Para-Cycling Race Series and the Inland Empire Disabilities Collaborative Expo and Conference. Pedro Payne, PhD, director, PossAbilities said, "We couldn't do all these things without partners like Quest."
Additionally, the funds will also underwrite the annual grant and scholarship program that awards more than $50,000 per year in adaptive equipment, accessibility projects, sporting activities and educational scholarships for PossAbilities members.
The care LLUH provides is driven by its motto, "to make man whole," and treatment does not end when a patient is discharged. "PossAbilities does a wonderful job of getting patients to an optimal state after an injuring experience," Edwards added.
2016 Paralympic hopeful Greg Crouse, an army veteran who lost his left leg while serving overseas in 1988, has been a part of PossAbilities since 2008. Crouse expressed his gratitude to both organizations during the event. "I'm honored to be a part of PossAbilities. Thank you for making my dreams a reality."
PHOTO CAPTION: Representatives form Quest Diagnostics presented Loma Linda University Health PossAbilities with a check for $1 million on Wednesday, Jan. 28. From left: Lauren Burke-Hodge, program assistant, PossAbilties; Rachelle Bussell, senior vice president of advancement, LLUH; Lisa Wright, executive director of philanthropy, LLUH; Danny Fontoura, chief wholeness officer, LLUH; Nikki Gaitan, senior development officer, philanthropy, LLUH; Dr. Gary Fitzgerald, vice president for business development at Loma Linda University Health Care; Lyndon Edwards, senior vice president, LLUH; Dr. Murray Brandstater, LLUH; Cotie Williams, manager, community outreach & patient experience, LLUMC East Campus; Patricia Murphy, commercial sales director for Quest Diagnostics Incorporated; Jean-Marc Halbout, regional vice president, Quest Diagnostics; Dr. Richard Hart; president, LLUH; Terry Hansen, chief operating officer, LLUMC; Jillian Payne, executive director, LLUCH Foundation; Pedro Payne, PhD, director, PossAbilities; and front row, PossAbilities member Greg Crouse.
Additional photos available for download here: http://bit.ly/1Df7T6o
# # #