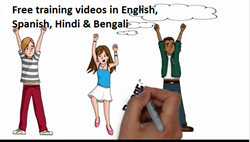 Now anyone can learn IT for free and reach own dreams
Queens, New York (PRWEB) February 05, 2015
A New York based tech startup today introduced a new educational platform, Erudeversity (erudeversity.com), which is the easiest way to learn, acquire new skills, teach and share knowledge in preferred languages without charging any fees. This education platform focuses on job-market-oriented courses and interactive video tutorials in 4 different languages (English, Spanish, Hindi & Bengali) without prompting the users to pay or subscribe! The beta version of this web platform was released in December of 2014 and thousands of users all around the world have benefited from the tools already.
"We are thrilled by the response we have received since our beta launch. We never want to charge the end-users for learning, and people around the world seem to love it. Over 5,000 students have already engaged in interactive learning, and many were able to switch their careers to do what they love. Managing to attend a traditional school or University has been difficult and expensive, and nowadays, having a college degree is not helping as much to land a dream job, as what we learn in college is much different than what we need to perform at work. Erudeversity believes that job-oriented IT education doesn't have to cost a fortune anymore and I request all of us to come together and help to spread this motive to every corner on our earth," said Miandad Khan, Founder of Erudeversity. Also, selected instructors get to create new courses on this platform and get paid based on video views and popularity per month.
Starting today, users from all over the world can access Erudeversity's official web platform to brush-up existing skills or get ready for a new job in Graphics Design, Web Development, Animation, Programming & Entrepreneurship. The company is committed to provide quality technical courses in topics and software tools that are high in demand in the current job market. Unlike other video training companies, Erudeversity's aim is to provide up to date tutorial videos at no cost to the end-users and its current video library of over 500 videos gets updated every week.
"We are overwhelmed by the response especially from North America, Europe and South Asian countries. We are adding new courses and video tutorials every week and planning to translate our courses into many other languages," said Ahmed Shahnewaz, director of Erudeversity.
Erudeversity is reinventing the way current education works with its interactive, open-source platform for providing a one-stop solution for learning, teaching and sharing knowledge at zero cost.