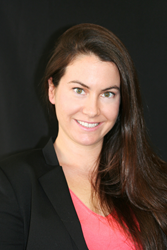 "Since starting I enjoy most importantly the people I've met along the way!"
(PRWEB) January 31, 2015
Kelsey Dineen, Senior Sales Associate, celebrates her fifth year this January at AdvantaIRA Trust. She has played a key role in assisting real estate investors with purchasing property in their self-directed IRAs as well as sales for the retirement plan administrator.
Kelsey Dineen grew up in the Southwest Florida area. She is a graduate from the University of Florida and holds her Bachelor of Science degree in Business Administration for economics. Dineen was a member of Warrington's Business Administration Undergraduate Program which is ranked by U.S. News and World Report to be among the top 25 undergraduate business programs in the nation. She received her Honors Program Certification of Competition after being a member of the University of Florida Honors Program. She was also selected as one of five participants to attend the prestigious University of Florida Honors Academic Exchange Program in Lancaster, England where she spent a year of her life studying at Lancaster University's Management School which is consistently ranked one of the top five business schools in the U.K.
Immediately after graduating from the University of Florida, Dineen took a job at AdvantaIRA Trust where she started out as a receptionist. She quickly worked her way up in the company to become a transactions associate where she's helped hundreds of real estate investors purchase real estate tax-free in their self-directed IRAs. After being with the company for a couple of years she received her Certified IRA Services Professional (CISP) designation from the Institute of Certified Bankers. She is currently a senior sales associate for the company. Dineen is actively involved in the Southwest Florida Real Estate Investors Association, Dade Real Estate Investors Association, and the Broward Real Estate Investors Association.
When asked what she enjoys most about working at AdvantaIRA Trust over the last five years Dineen said, "Learning about the self-directed IRA market and the IRS rules and regulations, getting to meet other investors and having the opportunity to educate them on how we can help them diversify their retirement portfolios, and most importantly the people I've met along the way!"
Dineen is a vital employee at AdvantaIRA Trust who is full of IRA knowledge and is typically featured as a speaker for many of the educational IRA events that the firm holds each month. She is very well liked by the many clients that she's assisted over the past five years and is one of the best investments that the local IRA company has made. The staff and management are very happy to celebrate Dineen's half decade with AdvantaIRA Trust.
About AdvantaIRA Trust
AdvantaIRA Trust is a self-directed IRA administrator that provides tax-deferred and tax-free investment opportunities, superior customer service, and educational tools to assist investors in realizing the maximum benefits possible within IRAs. AdvantaIRA makes it easy to use self-directed retirement plans to invest in assets that the individual investor knows, understands, and can control. To learn more visit www(dot)AdvantaIRA(dot)com.
About Dave Owens
Dave Owens is the managing partner at AdvantaIRA Trust in Fort Myers, Miami, Gainesville, New England, and the Florida Panhandle. Owens opened the AdvantaIRA Trust headquarters in Fort Myers, FL in 2003. His background as a certified public accountant, combined with a long history of personal retirement self-direction, provides his audiences and clients with solid advice and practical solutions to their IRA investment questions. Dave holds a BS in accounting from Purdue University. He also earned the prestigious Certified Exchange Specialist designation through the Federation of Exchange Accommodators.