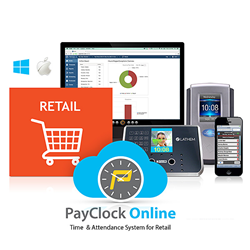 "Managing a multi-location business is challenging, and PayClock Online makes it easy." -- Joe Nunez, The Laundry Butlers
Atlanta, GA (PRWEB) February 03, 2015
Fact: People have to get paid. But what if there was a way to better track employee time and attendance, especially for retailers that may have more than one location with both office and field-based workers?
Easy. Many have turned to Lathem's PayClock Online cloud-based time and attendance solution to better track employee time and make payroll processing easier.
Car Wash Express in Hartselle, Ala., The Laundry Butlers in San Antonio, Texas, and Countryside Glass & Mirror in Dunedin, Fla., use PayClock Online and experience the benefits it brings to their company operations and bottom line, making employee time and attendance management easier and more efficient on payroll day.
Car Wash Express operates four car wash businesses in northern Alabama, and the company uses PayClock Online at each of them. "I love PayClock Online," said Tamesha Beck, owner. "The time and attendance information for all our locations is captured in one place. I have my operations manager process payroll at one location for all four companies. The software downloads easily into QuickBooks. Lathem is the only company we found that integrates with all the administrative solutions our company uses."
Joe Nunez manages The Laundry Butlers, a residential laundry service business with several locations. "Managing a multi-location business is challenging, and PayClock Online makes it easy. Because it's cloud-based, I can retrieve time and attendance information anywhere."
Countryside Glass & Mirror, a family-owned custom glass and mirror business since 1957, uses PayClock Online to effectively manage time and attendance for its 85-employee workforce. Because the company has two office locations and many remote workers, employees either clock in and out on a computer or swipr proximity badges in front of a Lathem PC600 Touch Screen time clock. Field-based workers clock in and out on their smartphones. PayClock Online's mobile functionality combined with GPS tracking ensures they are recording their time from the correct work site. Regardless of the time tracking method, all 85 employees' recorded hours are immediately available for management to view and process.
"It's all seamless," said Kathy Hannas, office HR manager. "PayClock Online has made my job much easier, and it saves the company money. Our installation team can clock in from the job site, instead of coming to the office and waiting for a job order and truck. That used to waste from one to three hours each morning."
PayClock Online's cloud-based functionality means all time records are updated in real-time. Hannas can immediately fix any errors, and consequently payroll day isn't filled with missing time entries and erroneous records. For this reason, she stays ahead of time and attendance management each day, ultimately saving time and operating more efficiently.
"PayClock Online is much easier, but also much more efficient for the company," Hannas said. "We've been using PayClock Online for about a year now, and it works great."
About PayClock Online
PayClock Online is a cloud-based solution that enables businesses to manage employee time and attendance anytime, anywhere with an Internet connection. This web-based employee timekeeping system allows managers to quickly process payroll on their own time, when it is most convenient for them. Mobile functionality lets managers track remote employees' hours or administer payroll from their own mobile devices. It's easy to set up employees to clock in and out from their computers, mobile devices, or even Lathem time clocks, and enable them to view their own time records and paid time off information on the web without supervisor assistance. PayClock Online easily integrates with popular payroll software systems like QuickBooks, Paychex, ADP and more.
About Lathem
Headquartered in Atlanta, Georgia, Lathem is the leading provider of durable and affordable timekeeping products for business. Since 1919, Lathem remains a family-owned and operated US manufacturer. More than 1 million organizations worldwide use a Lathem solution every day to help manage their business, including commercial wall clocks, time stamps, mechanical and biometric employee time clocks, and Lathem's PayClock Online time & attendance system.