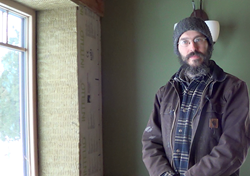 From electricity to insulation, we applaud those who find ways to remove the use of fossil fuels in the building industry.
Burlington, VT (PRWEB) February 04, 2015
In a ceremony held Wednesday at the Better Buildings By Design conference in Burlington Vermont, owners of New Frameworks Natural Building were awarded the Best of the Best Award for a retrofit of a mid-1800's farmhouse. A high level of consideration and attention was spent making the home, located near St. Johnsbury, VT, a showcase for resiliency in the region.
"The driving goal behind this project was resiliency," said New Frameworks co-owner, Jacob Deva Racusin. "We had a commitment to get the building off fossil fuels entirely."
Along with eliminating the use of fossil fuels used for heating, cooling, cooking, and lighting the space, all petroleum-based products were avoided, such as spray foam insulation. Spray foam and polystyrene insulation have become commonplace, even in building projects considered to be "green" or "sustainable".
New Frameworks relied heavily on a combination of Pro Clima tapes and membranes, and rock wool insulation to avoid the use of foam. To some, the award-winning St. Johnsbury retrofit represents a turn in the industry toward more renewable, petroleum-free building material considerations. North American Pro Clima distributor, 475 High Performance Building Supply, released a recent publication stating, "Foam fails for many reasons: it's made of dangerous toxic ingredients, it's a fire accelerant and fire hazard, it has degrading thermal insulation values, it can excessively shrink, it's hygrophobic, it's prone to cracking - ultimately it provides unpredictable and unreliable performance."
Moisture concerns in the basement of the structure were of high concern during the design phase of the project. The basement design included rock wool insulation with Intello Plus airtight membrane on the interior basement walls. New Frameworks developed the assembly to address moisture issues while creating an efficient airtight barrier that allows moisture to dry to the inside of the building. This design ensures peak performance while eliminating damage and health concerns caused by moisture, including mold and rot.
"We're excited to see the award go to such a deserving design," said Ken Levenson, co-founder of 475. "From electricity to insulation, 475 applauds those who find ways to remove the use of fossil fuels in the building industry."