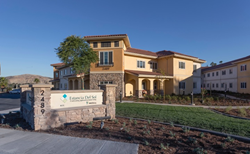 CORONA, California (PRWEB) January 30, 2015
ESTANCIA DEL SOL, WESTliving's newest Assisted Living and Memory Care community officially opened its doors to new residents on January 21, 2015 in Corona, California. Estancia Del Sol has experienced overwhelming support from the local community and a great response from seniors and their families. To date, over one third of the community's private apartment suites have been reserved.
Designed with a contemporary interpretation of classic Mediterranean architecture, this 117-unit senior living community consists of 91 assisted living and 26 memory care apartments. The development provides luxurious décor and offers an exceptional lifestyle for older adults. More than a comfortable living environment, Estancia Del Sol is uniquely designed for services and programs encouraging residents to thrive.
"Our programs are designed to improve the physical, mental, and spiritual health of residents. Estancia Del Sol provides a variety of body and brain exercise classes in addition to healthy meal options. This allows residents to enjoy healthier lives, new experiences, and a true sense of belonging," says General Manager, Sam Faye.
WESTliving's state-of-the-art programs encourage wellness and environments for resident engagement. "Scientific research has shown that social engagement promotes physical and behavioral well-being and actually extends life. With communities like Estancia Del Sol, WESTliving is expanding social activities and options to improve resident well-being and increase residents' lifestyle satisfaction," says Kathy Naber-Jordan, director of programs and product development for WESTliving. Social connectivity is expressed in the design of the community and staff interaction is more hospitality focused in service to the customer. So unique, it's called WESTclass service.
With an understanding of the continuum of care, WESTliving responds by accommodating independent, assisted living and memory care services as each resident wants. Our Renaissance suites are specifically designed for resident safety and comfort, promoting independence for residents with Alzheimer's or other related dementias.
The public is invited to visit, explore, and meet the staff while experiencing for themselves what senior living is meant to be. For more information visit http://www.estanciads.com.
About WESTliving
WESTliving was formed in early 2009 to own and operate hospitality based senior living communities providing an exceptional variety of lifestyles, wellness, and care options. Located in Carlsbad, California, WESTliving owns and operates within the Pacific and Southwest regions of the United States. From independent living through assisted living, WESTliving combines comfortable elegance with attentive, world-class service, the result? A true sense of belonging for seniors and their families. Find out what senior living was meant to be. More information about WESTliving can be found at http://www.WESTliving.net.
Media Contact:
Contact: Patrick Collins, Vice President Operations
pcollins(at)westliving(dot)net
T 760.602.5850
Community Information:
Estancia Del Sol
2489 California Avenue
Corona, CA 92881
T 800.571.8039