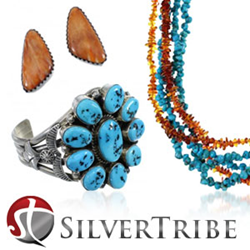 Zuni jewelry is particularly gorgeous with its coral and turquoise embedded pieces
Phoenix, AZ (PRWEB) January 30, 2015
Native American jewelry is revered for its use of traditional designs and hand crafted beauty. It has been worn and adored by thousands of people throughout the years. In particular, the turquoise gemstone has been frequently used in jewelry throughout southwestern Native American tribes such as the Hopi, the Zuni, and the Navajo. SilverTribe, the online leader in Native American and southwestern style jewelry, is bringing traditional authentic Native American adornments to modern shoppers.
"Our authentic Native American jewelry has been expertly crafted from several tribes," said SilverTribe spokesperson Chris Anderson. "We have silver and turquoise jewelry from the Navajo and Zuni cultures. Each creation is unique and meaningful."
Recently, SilverTribe has expanded their southwestern Native American line to include more jewelry and accessories from Zuni, Hopi, and Navajo tribes. Each piece is an authentic adornment made with precious gems and silver.
Anderson explains that SilverTribe features jewelry with pieces made by Native American members of the southwestern tribes. The Hopi tribe is known for their overlay jewelry created with elegant, silver embedded images. The traditional Navajo jewelry is primarily inlay turquoise jewelry with precisely cut precious gems fit together into stunning pieces. Zuni jewelry is particularly gorgeous with its coral and turquoise embedded pieces featuring needlepoint styles and distinctive imagery. The popular Effie Calavaza rings on SilverTribe are prime examples of the Zuni style with their carefully crafted silver framing the turquoise and coral gems.
Imagery beliefs range from tribe to tribe, but most carry similar general meanings. In Native American jewelry, the Kokopelli is a common symbol that represents fertility for both the wearer and the seasonal harvests. The Bear is oft seen in silver and turquoise jewelry, and is believed to bring the owner strength and courage. The Dragonfly that adorns Navajo pieces represents the elemental power of water and with it, cleansing and purity for the wearer.
"Much of the Native American jewelry features the precious stone turquoise," said Anderson. "Each tribe has a varied belief for the stone, but most share the common faith that turquoise brings healing and good fortune to the wearer of the gem."
Anderson notes that there are multiple kinds of turquoise gems. Native to the southwest is the Sleeping Beauty Turquoise, which sports a solid, light blue color and no matrix. In the same region, Kingman jewelry is produced. Bright blue colors mixed with dark blue, black, and silver matrix patterns make each of these stones unique. Another popular southwestern gem is the Carico Lake turquoise. Defined by its iridescent and calming green hue, many tribes incorporate this stunning gem into turquoise jewelry.
"There is really no other jewelry like authentic Native American pieces because they are all uniquely made and represent a rich part of American History," said Anderson. "We are proud to bring these pieces to all shoppers who can appreciate their beauty and quality."
To browse hundreds of authentic Native American jewelry pieces, visit SilverTribe.com.