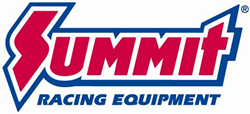 Tallmadge, OH (PRWEB) February 09, 2015
Mahle's PowerPack Piston and Ring Kits are built around the PowerPak forged pistons. Developed for high performance enthusiasts and sportsman class racers, the pistons are made from 4032 aluminum alloy to allow for tighter cylinder to wall clearances, and improved temperature stability.
Mahle's GRAFAL® skirt coating reduces drag, scuffing, friction, and cylinder bore wear, plus it reduces piston noise. A dry lubricant phosphate coating in the pin bores and ring grooves helps prevent galling and microwelding during initial engine startup and break-in of engines.
Rounding out a PowerPak kit is a set of high performance, low drag 1.5mm-1.5mm-3.0mm piston rings (1/16-1/16-3/16 inch for most big block V8s), steel pins, and race-proven round wire locks.
PowerPak Piston Features

Lightweight slipper skirt forgings
Fully-machined crown
Pin bores finished on CNC boring equipment
Fully deburred
Summit Racing carries a large selection of Mahle PowerPak Piston and Ring Kits for domestic V8 engines, including late model GM LS, Ford Modular, and Chrysler Hemi. We also offer PowerPak Plus kits for later model Honda, Subaru, Nissan, and Mitsubishi four-cylinder engines, plus kits designed specifically for use with Trick Flow's Twisted Wedge® cylinder heads for small block Ford.
Summit Racing Equipment
http://www.SummitRacing.com
1-800-230-3030