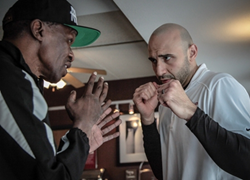 If it means us traveling overseas to win the world title, so be it.
Lockport, NY (PRWEB) January 30, 2015
World Kickboxing Association Intercontinental Champion and no. 2 ranked cruiserweight in the world Amer Abdallah has his sights set on a world title fight in 2015. In his last outing, Abdallah defeated European Champion and IKF World Champion James Wallis in a 10-round unanimous decision victory at the Kenan Arena in Lockport, NY. Undefeated in his 15 professional fights, Abdallah is one of the few remaining full-contact fighters in the United States.
"There is a lot of action in Europe and overseas," Abdallah stated. "That is where the current world champion is from and where Full Contact Kickboxing is still popular. If it means us traveling overseas to win the world title, so be it."
Currently training out of the world-famous Mayweather Boxing Club in Las Vegas, Nevada, Abdallah trains with well-respected coach, Jeff Mayweather. Abdallah, who is originally from upstate New York, relocated his family to Las Vegas to train full-time on the west coast.
"My home will always be Lockport, NY, but for the time being, I need to focus on this lifelong goal of mine before my career ends," said Abdallah.
Although there hasn't been a definite date set for the world title fight yet, Abdallah's management team is closely reviewing all offers that have been made.
"We've received opportunities from overseas as well as all over the United States," Abdallah's manager Ahmed Imamovic stated. "When the right offer comes along and the timing is right, we will pull the trigger and finalize this deal to make sure it's right for everyone."
Throughout his career, Abdallah has faced top-caliber competition such as African Champion Francois "Bang Bang" Ambang, top contender Tiawan Howard, former Canadian Champion the late Shawn Tompkins and legendary kickboxer Ronnie Deleon.
At 37 years of age, Abdallah and his team don't feel as if he's slowed down at all.
"I compete at this level because I can," said Abdallah. "Thank God I'm healthy enough to stay on top and my experience only helps me stay there. Once I feel it's time for me to walk away, I will without a doubt make that decision, but that's not now."
To stay up to date with Abdallah and his career, Team Abdallah encourages fans to "Like" his Facebook page Amer "AlMahseeri" Abdallah and visit http://www.AmerAbdallah.com.