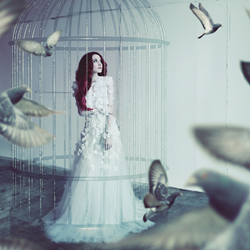 New York, NY (PRWEB) February 02, 2015
OK!Good Records has launched pre-orders for Janet Devlin's upcoming release of her debut album "Running With Scissors." With help from Janet, OK!Good Records has created new and exclusive merchandise which is available now only on the OK!Good Records web-store.
The Janet Devlin "Running With Scissors" Deluxe Pack includes "Running With Scissors" digipak CD, our exclusive baseball t-shirt, an exclusive art card signed by Janet, brand new discography sticker pack, and "Running With Scissors" album cover A2 poster. The first fifty orders of the deluxe pack pre-order will also include a unique Polaroid photo taken and signed by Janet Devlin.
In addition to the Deluxe Pack, fans will also be able to order the "Running With Scissors" and Baseball T-shirt Combo Pack. The CD, baseball t-shirt, and discography sticker pack are also available individually. Please note that all pre-orders will be shipped to arrive around the scheduled release date of February 10th, 2015. To purchase all the pre-order items visit: http://www.okgoodrecords.com/product-category/pre-orders/
"Running With Scissors" will be available to purchase Tuesday, February 10th. It will be available for digital purchase on iTunes. You can pre-order "Running With Scissors" on iTunes today. It will also be available for streaming on Spotify.
Track Listing:
1. Creatures Of The Night
2. House Of Cards
3. Hide & Seek (feat. Newton Faulkner)
4. Lifeboat
5. Things We Lost In The Fire
6. Wonderful
7. Delicate
8. Friday I'm In Love (The Cure cover)
9. When You Were Mine
10. Whisky Lullabies
For more information about Janet Devlin visit: JanetDevlin.com
Be sure to stay connected with Janet on Twitter, Instagram, Facebook, and YouTube.
About OK!Good Records:
OK!Good Records is a genre independent record label established in 2010 to distribute, market, and promote artists and music that defy boundaries, reject limitations, and transcend the ordinary. They champion and celebrate independent music, thought, art, expression, and enterprise. http://www.okgoodrecords.com