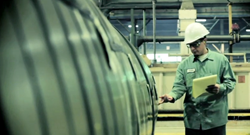 We spend a lot of time focusing on making that video actually mean something.
Chicago, IL. (PRWEB) January 31, 2015
Chicagoland-based video production company Absolute Vision Media Productions has completed videos, animations, motion graphics, and branding campaigns, for the manufacturing industry market for years, and is now well positioned to continue providing excellent videos to manufacturers in Illinois and across the mid-west, as well as coast to coast. Visit the Absolute Video Gallery to view sample videos as well as a manufacturing demo reel.
Manufacturing videos are a unique challenge that require an experienced skill set and equipment knowledge. There's a balance that must be achieved between showing off the mechanical processes without revealing trade secretes, while still finding a way to translate and transmit the message of the manufacturing company. This is a balance that Absolute Vision Media Productions achieved not only with Komatsu, but also with their various other manufacturing clients.
Indeed, the manufacturing reel at Absolute Vision Media Productions shows off a wide variety of industrial settings and processes, from assembly lines to computer terminals to rows of steel pipe and other raw materials. There's a strategy to conveying the power and authority of these manufacturing settings without losing the warmth and humanity that is, of course, at the heart of every manufacturing process. This is partly because manufacturing videos can be used for a wide variety of purposes, including both training and promotion. In both of those cases, it's important to show happy employees doing the work in an efficient way, as this will be easy to follow for new workers and reassuring for, as an example, possible investors.
"Whenever we do a manufacturing shoot—or any shoot really—we're always very careful to incorporate the human element," said Mark Smith, owner and founder of Absolute Vision Media Productions. "Even if all that person is doing is pushing a button, we think it's important to get that interaction. I mean, anyone can take decent video of machines. We spend a lot of time focusing on making that video actually mean something." That time is reflected in the final product, which consistently exceeds client expectations.
If manufacturing clients aren't interested in humanizing their operations or showing off their capabilities, they're often interested in branding themselves. Sometimes they need this branding to be generated from scratch, and sometimes the manufacturing client is looking to recast themselves in a way. In either case, a video is often a great way to kick off any new branding or rebranding effort. Manufacturing in Chicago is a big, bustling sector of the economy, with vigorous competition. A manufacturing branding video can really help a company stand out and gain a competitive advantage. Absolute Vision Media Productions is well positioned to help those manufacturing companies accomplish just such a branding push.
Manufacturing in the United States continues to grow, recovering from the Great Recession. A great branding, promotional, or training video is a great way to help manufacturing companies gain an advantage and continue to grow. If you're interested in a manufacturing video for your company, you can contact Absolute Vision Media Productions via e. mail at Info(at)AbsoluteVisionMedia(dot)com.
About Absolute Vision Media Productions: Absolute Vision Video & Media Productions is a Chicago-based media and production company, and part of the Absolute Vision Media Inc. creative group. Whether for agency-style media, professional video production, local production crew, or general marketing and advertising, Absolute offers national-level experience with local connections and know-how for corporate, educational, commercial, and creative purposes. To learn more, visit http://www.AbsoluteVisionProductions.com.