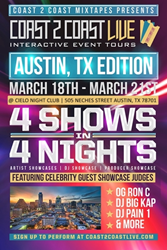 Austin, TX (PRWEB) February 02, 2015
There is more to do in Austin, Texas during the SXSW festival. Coast 2 Coast LIVE Austin, TX Edition, March 19, 2015, brings together the best celebrity judges and Hip-Hop industry professionals including DJs, A&Rs, Producers and more. Coast 2 Coast LIVE provides major artists and indie artists alike an opportunity to network and perform for prizes during the biggest festival in the United States, South By Southwest Music Festival. The SXSW Music Festival brings more than 28,000 music industry professionals, musicians, and fans to Downtown Austin, Texas every year. Artists can submit to perform during this event at Coast 2 Coast LIVE.
Coast 2 Coast LIVE Austin Edition will feature an artist showcase that will be judged by various celebrity judges spanning the music industry. Past event judges have included Grammy winning producers, multi-platinum and Grammy nominated artists, and well respected DJs and Record Breakers.
Event Information:
Cielo Night Club | 505 Neches Street | Austin, Texas 78701 Limit: 21
Guest Judges:
DJ PAIN 1 | Certified Gold Producer for Young Jeezy, Meek Mill, 2 Chainz, 50 Cent & More
DJ BIG KAP | Legendary DJ for Notorious BIG, Funkmaster Flex, Shade 45 & More
OG RON C | Legendary DJ & Co-Founder of Swishahouse Records
To find out more about Austin, TX Edition or the Coast 2 Coast LIVE March Tour Schedule, please visit the Coast 2 Coast Live website. Artists can submit to perform by going to http://www.coast2coastlive.com.
Media, DJs and models can register for free to any events at http://www.coast2coastlive.com/events
About Coast 2 Coast LIVE:
Coast 2 Coast LIVE tours in over 10 cities every month to bring indie artists major opportunities through our interactive showcase events. Artists submit via the website and get votes to perform in their city, judges critique the artists in various categories to find a winner for every city to take their music career to the next level. For more information, visit http://www.coast2coastlive.com