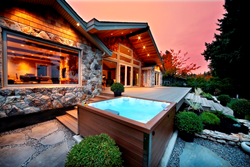 This brings the Jacuzzi Hot Tub experience closer to more people in San Diego.
San Diego, CA (PRWEB) February 01, 2015
Nearly 5 years after opening their first location in Carlsbad, Aqua Paradise has successfully opened their second location at 11305 Rancho Bernardo Rd in San Diego. The team at Aqua Paradise specializes specifically in Jacuzzi Brand Hot Tubs & Spas including sales, service, repairs, accessories, and water care products. The new location is located in the beautiful community of Rancho Bernardo and features a dozen of Jacuzzi best selling models including three portable hot tubs filled with hot, clean water for people to try.
Jay Gavin, owner at Aqua Paradise, says "While searching for a new location, it was important for us not only find a location that was easy for customers to get to, but one that had adequate showroom space as well as additional warehouse space. I think the new store gives customers the experience they have come to expect from us and Jacuzzi products." In addition to a new showroom, Aqua Paradise took it one step further and redesigned a whole new website to go along with the added location. Jacuzziofnorthcounty.com gives people an easy to navigate platform rich with information about all of the products Aqua Paradise and Jacuzzi. You can not only find information about all of the different portable hot tubs, but you can even request a private appointment to personally try before you buy.
Prior to opening the new store, Aqua Paradise has accumulated multiple Customer Service Excellence Awards from Jacuzzi Hot Tubs, design awards, an A+ rating with the BBB, scores of five star reviews on Yelp, and their Carlsbad store (6990 El Camino Real just north of La Costa Resort) has been recognized among one of the highest volume stores worldwide.