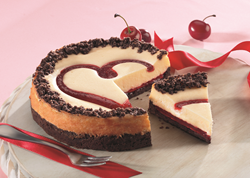 Our goal at The Swiss Colony is to delight customers every day of the year.
Monroe, Wisconsin (PRWEB) February 03, 2015
New Valentine's Day gift desserts crafted at The Swiss Colony are hand-decorated with a whimsical touch and designed to delight the gift recipient. Cheerful plump icing hearts adorn petits fours while smiling and winking faces are featured on dreamy chocolate truffles. The bakers and confectioners at The Swiss Colony are inspired to create fresh and fun designs to commemorate each season and holiday.
Plump Heart Petits Fours ($19.95) are mini cakes that are on-trend and festive with a strawberry shortcake flavor. Each layer is carefully baked and topped with vanilla butter crème, strawberry jam and a plump red icing heart creating a wonderful Valentine's Day gift.
A clever way to connect with a special someone is to gift a box of Be My Valentine Petits Fours ($19.95). For more than four decades, The Swiss Colony has perfected the art of baking little layer cakes also known as petits fours. This special Valentine's Day gift spells out "Be My Valentine" to help win the affection of the gift recipient.
Teens and young adults will appreciate the text-inspired Emoticon Chocolates ($19.95). Score coolness points with these bright yellow truffles decorated with three well-known emoticons - "wink," "kiss" and "okay." Each smooth truffle has a whipped chocolate center and is guaranteed to make a Valentine smile.
Romance is in the air when Chocolate Covered Strawberries ($49.95) are given on Valentine's Day. This decadent gift starts with fresh, plump strawberries that are dipped in chocolate or crème coating for a sweet delight that is truly indulgent.
Showing affection is easy with a Plush Bear and Truffles ($24.95) combo gift of a cuddly teddy bear and a pretty box filled with creamy milk truffles. Kids and adults alike will appreciate the sweet gesture for a Valentine's Day gift.
"We enjoy creating desserts that can be fun and traditional for a holiday like Valentine's Day," says Becky Henke, VP of the Food Division at The Swiss Colony. "Our goal is to delight customers every day of the year."
To see the entire line up of Valentine's Day gifts available at The Swiss Colony, along with the company's traditional and novelty offerings including baked goods, chocolates, candies, meats and cheeses, shop online at http://www.swisscolony.com.
About The Swiss Colony
The Swiss Colony is a family-owned Wisconsin company that has been creating food gifts for nearly 90 years. The company insists on the highest quality ingredients for a large selection of festively packaged gifts for every occasion. Exclusive recipes developed by European Master Bakers and hand-decorated novelties like no other are just two of the reasons customers include The Swiss Colony as part of their holiday traditions year after year.