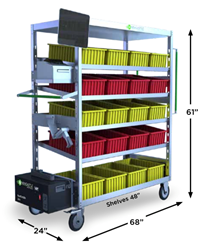 This is a natural extension requested by users of the benefits our flagship products have brought to our customers' receiving operations.
Middleton, MA January 31st, 2015 (PRWEB) January 31, 2015
The PowerPick Station, an innovative picking cart equipped with a rechargeable power system, is now available from Newcastle Systems, the leader in mobile power solutions for the distribution and logistics industries.
Designed for both large businesses with advanced systems in place and for small and mid-size businesses looking to take advantage of those advanced processes, the PowerPick Station provides flexible configurations combined with a number of ergonomic features that improve on the safety and comfort of then operator over traditional carts.
But the PowerPick Station's most important innovation is a design built to carry Newcastle Systems' proprietary power system that opens up the possibility for the user to mount any number of systems or equipment types needed to fit the specific process of your facility. Pick/Push to light? Scanners and Thermal Printers? Laptops? The PowerPick Station can support a wide range of applications because it gives operators the freedom to be creative with its own rechargeable power source.
Managers and Process Professionals can learn more about getting the right picking process for their facilities before investing in equipment by downloading our handy overview guide to various picking methods today.
About Newcastle Systems
Newcastle Systems is an innovator of workplace mobility solutions for many of the world's leading retail and operations companies. As the leading provider of Mobile Workplace© solutions, Newcastle Systems provides the means to dramatically improve employee and facility productivity without major changes to your infrastructure, software or processes. A Newcastle Systems' Mobile Workplace© facility requires less equipment and less power to do the same work as a standard workplace configuration.
We are a "Customer-First" Business whose philosophy is "Provide innovative solutions that make equipment more mobile and information more readily available across an entire enterprise. Period."
We are strong believers that the only way to be successful is to listen to what our customers have to say.
For more information: Please visit our website at http://www.newcastlesys.com or direct inquiries to us by phone at 781-935-3450 or by e-mail at sales(at)newcastlesys(dot)com.