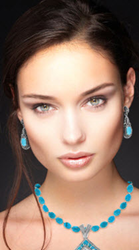 Turquoise rings [are] a staple to this year's trends
Phoenix, AZ (PRWEB) January 31, 2015
While 2014 was all about glam, flash, and statement clothing, 2015 brings the elegance of muted, solid, and customizable colors in fashion. This change in style brings the opportunity for accessories to become the center of attention. As the New Year has unfolded, fashion enthusiasts have been establishing the most unique accessories to really stand out with new trends.
TurquoiseJewelry has added a multitude of new jewelry pieces that work perfectly with the flowing, modern-styled pieces of clothing taking over spring fashion. The trend is to make the accessory the statement piece that turns a regular outfit into something memorable.
"Turquoise rings, in particular, are a staple to this year's trends," said TurquoiseJewelry Spokesperson Jack Burch. "The rings work for casual, office, and event wear. Many of our rings are even more elaborately decorated with precious gems like coral and onyx to create stunning pieces of high quality."
Burch went on to cite turquoise earrings and bracelets as part of the biggest gem-trends for the year. Trendy turquoise jewelry is available online in a variety of styles – silver bracelets with blue stones embedded and diverse turquoise pendants that can be worn on different chain lengths.
TurquoiseJewelry has rolled out a variety of new fashion pieces for the spring season focused on quality and affordability for all kinds of style-lovers. Turquoise necklaces, in particular, are becoming a staple in wardrobes.
"Hot celebrities like Lana Del Rey, Selena Gomez, and Demi Lovato have all been spotted wearing turquoise jewelry on the red carpet," said Burch. "The Native American origins of the jewelry combined with the absolute beauty of the gem make for the perfect accessory.
Burch also provided tips on wearing turquoise jewelry. "Don't shy away from larger pieces, especially ones incorporating other precious gemstones. The shining contrast of the accessory will turn any plain Little Black Dress into something special," he also adds that TurquoiseJewelry has minimalist turquoise rings and necklaces for those who want to test the waters with the gemstone.
"It's definitely something we'll be seeing more of on the runways," said Burch. To view the newest collection of jewelry and accessories, visit TurquoiseJewelry.com.