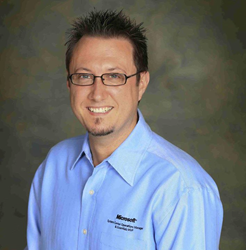 The people, culture, and vision of the Cireson team are the embodiment of the core values I was looking for.
(PRWEB) February 02, 2015
Cireson officially welcomes Pete Zerger, a long-time Microsoft Most Valued Professional (MVP), as an integral part of positioning the company's partners for success. The synergy of Zerger's new role within Cireson's energetic, committed team will prove to be a critical inflection point in the organization's growth and global expansion.
Zerger sees great potential for Cireson's future. "In choosing a new home, I wanted to find an organization with a compelling vision for the future, a corporate culture that empowers its people to contribute to the organization's success and enables me to empower others. The people, culture, and vision of the Cireson team are the embodiment of the core values I was looking for," comments Zerger of his landmark career move.
The respected figure in the System Center community also looks forward to the high level of collaboration, innovation, and development that will come with working alongside such a talented group of people and partners.
Partners and fellow Microsoft MVPs Travis Wright and Chris Ross welcome Zerger as a Principal Program Manager who will focus on partner enablement and community evangelism. Zerger will also grow adoption of Cireson's market leading service management and asset management solutions built for System Center. In this role, Zerger will continue to be deeply involved with the System Center community he has served for many years as a Microsoft MVP.
Both Ross and Wright share their excitement for Cireson's newest member. "We are extremely happy that Pete is joining the Cireson family as we continue our rapid growth by providing strong support to our valued partner community," they explain. "Pete is a very well-known community leader in the System Center space and is passionate about sharing his knowledge to help others achieve success. We look forward to working with Pete to enable Cireson's partners to grow their System Center business with Cireson products."
In his first community event as a member of Cireson, Zerger will be a featured speaker at the System Center Universe 2015 conference, scheduled for February 4th in Dallas, TX. The Cireson team, including fellow Cireson presenters Wally Mead and Travis Wright, will be joining Zerger in Dallas for the conference.
About Cireson:
Cireson is a world-leading authority on Microsoft System Center. With 100% focus on the revolutionary platform, their team of experts deliver full-service Asset and Service Management solutions to medium and large enterprises. Through their customer-centric Cireson Consulting Services and platform-extending applications available through the Cireson Store, the company offers clients a dynamic System Center experience that is unparalleled. Cireson is based in San Diego with offices throughout North America, and proudly boasts some of the brightest and most fanatical IT professionals in the industry. To learn more about Cireson, visit http://www.cireson.com.