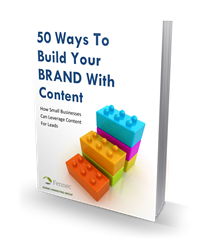 Every business has the content they need to get started already - we just help them bring it to life
Seattle, WA January 31st, 2015 (PRWEB) January 31, 2015
Getting Started in Content Marketing with "50 Ways to Build Your Brand With Content"
With Google's constant revisions to its search engine that essentially ended the standard definition of SEO as we know it in 2013, marketers must now more than ever raise the quality of their online activity enough to demonstrate what they produce is valuable enough to make a reader want to share it. "Content" must now, more than ever, be authentic, compelling and serve a purpose beyond being a vessel for some keywords or metatags.
But where to start? Small and Medium businesses are often overwhelmed with the task of trying to create good content from scratch and see it as a distraction from their business.
"50 Ways To Build Your Brand With Content" is the ultimate guide for beginners looking to find an easier way to bring good content marketing practices into their day to day work online, and beyond.
This eBook will provide the entry-level reader a number of simple techniques and ideas for leveraging the content found every day in the business into online content that serves its audience.
Get a copy of "50 Ways To Build Your Brand With Content" here..
About Fennec Marketing Group
Fennec Marketing Group was founded in 2010 with the expressed aim of creating "Customer-First" excellence in its clients businesses through Branding, Content Marketing and Product Development. By holding a firm line on the question of "Strategy vs. Execution?" with the response "Strategy first, then execution" Fennec Marketing Group excels at making strong Brands for businesses big and small and helping them execute more efficiently and grow faster with better Lead Generation and Marketing-driven Product Development.
David Dallaire has worked in executive marketing roles and in customer-facing operation roles for Fortune 100 Brands all over the world, providing a unique set of experiences he is now able to leverage for his clients.
Please contact him at David(at)Fennec(dot)co.