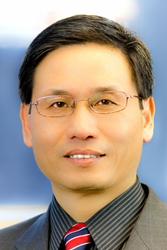 I enjoy doing the Cellulyze™ procedure to treat cellulite.
Minneapolis, MN (PRWEB) February 01, 2015
Dr. Steven Shu, a cosmetic surgeon in the Twin Cities, announced the successful application of Vaser technology in the treatment of cellulite. Dr. Shu developed the innovative Cellulyze™ procedure to target cellulite a couple of years ago, now it has become a mature and effective procedure to treat cellulite. The Cellulyze™ procedure combined with the state-of-the-art Vaser ultrasound technology creates satisfactory results from Dr. Shu's high-quality cosmetic care.
The minimally invasive cellulite treatment with laser or Vaser has been experiencing tremendous success, and Dr. Shu says he has seen growing interest in the new type of cellulite procedures nationwide.
"Cellulite is one of the most common complaints from patients and used to be very difficult to treat," Dr. Shu says. "'Many products that claim to reduce cellulite often don't create long lasting results."
Cellulyze™ is a minimally invasive two-step procedure. The first step of the procedure is to perform Vaser under the skin to smooth out the bumpy superficial fat surface. Meanwhile, the skin is tightened by stimulating the production of collagen. The 2nd step is to disrupt the fibrous bands of tissue with a special surgical instrument, which pulls down and creates a lumpy, uneven surface. The whole process is very similar to liposuction although the procedure techniques are different.
"The Cellulyze™ procedure provides quality results for my patients," Dr. Shu says. "Because cellulite is found in the superficial layer of fat and skin, Cellulyze™ is much more effective to treat cellulite than liposuction does, as liposuction only removes fat from the deep layers of fat."
About Dr. Shu and Shu Cosmetic Surgery
Steven Shu, MD, MBA, is a board certified laser surgeon and an expert in office cosmetic surgeries in Minnesota. He is a member of the American Academy of Cosmetic Surgery and has adopted many advanced cosmetic surgery techniques to achieve ideal results with more efficiency and safety. Shu Cosmetic Surgery offers a full line of cosmetic surgery services. All cosmetic procedures are performed in the accredited private surgical center in Edina, Minnesota. For more information on Shu Cosmetic Surgery, please visit the center's website at http://www.shucosmeticsurgery.com or http://www.rejuvelaser.com.
Contact: Steven Shu, MD, MBA
Email: info(AT)shuMD.com
Phone #: 952-922-9999