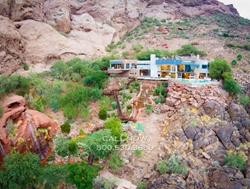 Unlike a resort, a private vacation home provides a secluded retreat where renters can welcome guests away from the media.
Scottsdale, Ariz. (PRWEB) January 31, 2015
With the biggest football game of the year happening in Glendale, Ariz. on Feb. 1, parties are abundant across the Valley of the Sun. Most of the parties, though, aren't happening in Glendale; they're happening in Scottsdale, an upscale suburb about 20 minutes east of University of Phoenix Stadium. HolidayRental.com, a fully integrated luxury hospitality company, is putting its guests right in the middle of the activity while maintaining their need for privacy through the rental of their private luxury villas.
The Super Bowl is a big deal, and Arizona is taking its hosting responsibilities very seriously. In fact, a full website (https://azsuperbowl.com/) of activities has been launched to help visitors build their itineraries. But that public site definitely doesn't share the multitude of private events occurring across the Scottsdale scene. That requires knowing the right people and getting invited to those exclusive home-based events.
For some visitors to Phoenix during this big weekend, they'll find that hosting a gathering is a lot easier when they have chosen to stay in a luxury private home rental rather than at a resort. By renting a private villa, high-profile guests are able to assume a lower profile away from the hustle and bustle — while still partying by bringing the activities to them.
For those travelers who have the means, renting a private luxury home is the perfect option, whether during the Super Bowl or for any other vacation plans. "We go the extra mile to ensure our guests' every need is met and every want exceeded. That's one of the reasons they choose to rent with us: they truly feel at home," shared Ryan Liebentritt, principal at HolidayRental.com. The luxury hospitality company has a portfolio of custom homes across the Phoenix area, and they have been busy preparing residences in anticipation of their busiest season.
Unlike a resort, a private vacation home provides a secluded retreat where renters can welcome guests away from the media and bring in a personal chef and perhaps a small band. Most of the custom homes can easily accommodate up to 15 overnight guests and two to three times that number for gatherings in the indoor and outdoor spaces. Typical amenities in such rental homes include in-home theatres, oversized chef's kitchens, heated pools and spas, outside kitchens and fireplaces, and secured, gated entrances.
"Most of our guests travel with a small entourage, and after a day of giving interviews and meeting people, they appreciate returning to the residence and relaxing among friends," Liebentritt pointed out.
To learn more about the portfolio offered through HolidayRental.com, visit HolidayRental.com or call 888-811-2516.
About HolidayRental.com
A fully integrated luxury hospitality company, HolidayRental.com has a portfolio of multimillion-dollar homes across the Phoenix metro area and Arizona, as well as in Lake Tahoe, Hawaii, and California. Learn more about their luxury vacation rentals at HolidayRental.com or by calling 888-693-5078.
###