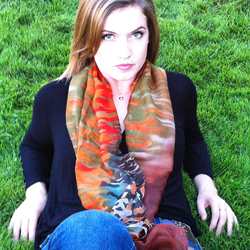 (PRWEB) January 31, 2015
Designed for diehard enthusiasts to casual listeners of the Grateful Dead, Garcia Artwear Scarves, by Grateful Girls, offers a whole new way to indulge in one of the greatest bands of all time. Each scarf has been inspired by the artwork of lead guitarist Jerry Garcia. Channeling Garcia's vivid use of color, they've crafted a line that will grab the attention of a whole new generation.
This Valentine's Day, let Grateful Girls wow her with pieces that are at once both fashion statements and irresistible odes to art and music. These colorful and affordable scarves will help her blossom with the magic of Spring. Each scarf is crafted from 100% Viscose for a light hand and silky feel, and is inked with the authorized Jerry Garcia signature, as the brand is officially licensed by The Garcia Family LLC.
Whether she's headed to an early matinee or running off to yet another board meeting, there's a beautiful and eye-catching scarf just waiting to complete her ensemble. Their designs incorporate bold strokes of color with gossamer-like fabric for a luxurious look that's at home when paired with a slouchy tee or a chic blazer. Let their beautiful blending of creamy pinks, fiery reds, deep-sea blues, and rustic greens ignite her passion.
Grateful Girls was launched in 2014 by two friends and loyal fans who longed to introduce a new generation to the magic of the Grateful Dead. All of their unique wares are licensed by The Garcia Family LLC and inked with the authorized Jerry Garcia signature. He may be gone, but his spirit and prolific body of artwork lives on through these artistic re-imaginings.
For additional information, please visit http://www.gratefulgirls.com or contact jeanette(at)chicblvd(dot)com.
Contact:
Jeanette Hummel
Account Executive
ChicExecs.com PR Firm/Channel Management
ChicBlvd Inc. LLC
1487 Poinsettia Ave., Ste. 125
Vista, CA 92081
714.269.3115
jeanette(at)chicblvd(dot)com
ChicExecs PR is an "out of the box" PR company which represents over 70 clients. ChicExecs has created an innovative approach to PR dedicated to helping small-medium businesses receive media coverage. Our revolutionary automated system is changing the face of PR. To learn more about ChicExecs visit http://www.chicexecs.com.