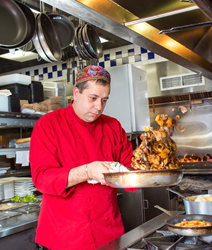 Nargis Cafe Now Delivers delivers during the snowstorm that hit US east coast
Brooklyn, NY (PRWEB) January 31, 2015
The Big Apple may have only felt a glancing blow from the blizzard named Juno, but not being buried under snow isn't the only good news about the storm for New Yorkers. For residents and businesses near the Sheepshead Bay neighborhood of Brooklyn, the blizzard inspired the Nargis Cafe, a popular Central Asian restaurant in the area, to start delivering to customers. Nargis Cafe is well known for serving Uzbek cuisine; hot food great for the cold winter months. Now, whether New Yorkers near the Nargis Cafe are stuck at home from the weather, or if Brooklyn-area residents want to enjoy food from Nargis at home for any other reason, items from the Nargis menu are only a phone call away.
On January 27, 2015, the day Juno was supposed to hit, after New York City Mayor Bill de Blasio warned New Yorkers to hunker down and stay off the streets, Nargis Cafe remained open. Since nary a soul was out, and news outlets were calling New York City a ghost town, Nargis Cafe brought the food on the day after the storm, that made the restaurant famous to customers who ordered from the safety and warmth of Brooklyn homes.
Another snow day is expected on Sunday Febriary 1st, but Nargis Café is ready to serve the Customers. Customers that order for delivery have full access to the Nargis Menu. Fans of the restaurant may order any dishes to stay warm on a cold day. Central Asian food is especially good when the weather is blustery. Nargis Cafe delivery customers may enjoy everything from the Samsa, which are meat and vegetable pastries; to the fried potato dumplings called Crispy Chuchvara; to the national dish of Uzbekistan, Plov, which is a rice dish rounded out with lamb meat, carrots and chickpeas. Additionally, customers can order soups or shish kebab from the grill to enjoy at home.
Nargis Cafe was founded in 2007, by a culinary "virtuoso" called Chef Boris "Big B" Bangiev. Chef Big B was born in Uzbekistan, and moved to the United States, where he studied culinary arts and earned the chef title. The Nargis Cafe exploded in popularity after Chef Big B opened the doors. Chef Big B has had to expand the cafe's dining area twice since 2007, taking over a flower shop that had been situated next door. Now, Nargis Cafe is still popular, thanks largely to Chef Big B's food. Wait lines out the door are not uncommon for customers of the popular central-Asian restaurant.
While Chef Big B's food is certainly the main attraction of the restaurant, that's not all Nargis Cafe has to offer. The restaurant's atmosphere attracts customers who are new to Central-Asian food, as well as customers who have come from the region, looking for a taste of home. The dining area at Nargis Cafe is beautifully decorated from floor to ceiling in the central-Asian style. The decor attracted the producers of the hit FX TV-series, "The Americans" to use the Nargis Cafe as a setting for a scene in an episode. While the cafe's decor is certainly an attraction for Nargis customers, thanks to delivery, customers can now enjoy Uzbek food in any atmosphere
About Nargis Cafe
Nargis Cafe, specializing in Uzbek and central-Asian cuisine, is located at the corners of Coney Island Avenue, and Avenue Z in the Sheepshead Bay neighborhood of Brooklyn, New York. The restaurant is a popular fixture in the neighborhood, and has even been given international attention through various news outlets and appearances in television shows, including the FX Cold War series, "The Americans." Nargis Cafe has been around since 2007, founded by Chef Boris "Big B" Bangiev, and growing in popularity ever since. The Nargis Cafe now offers delivery for fans of Uzbek food.
Contact
Nargis Cafe
2818 Coney Island Ave.
Brooklyn, NY 11235
Phone: 1-718-872-7888
Web: http://nargiscafe.com
Twitter: https://twitter.com/NargisCafe
Facebook: https://www.facebook.com/nargiscafe