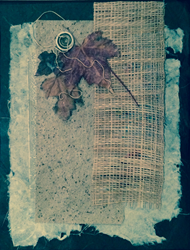 Franklin County PA (PRWEB) January 31, 2015
Although the prediction of Pennsylvania's favorite Groundhog Phil is days away, the reality is Phil most often predicts six more weeks of winter than an early spring, so playing off those odds, the Franklin County Visitors Bureau is recommending an infusion of art to buoy the spirits until spring truly arrives.
"Down the Garden Path: In the Spirit of Downton Abbey" opens at the Franklin County Old Jail in downtown Chambersburg at the end of January and may be viewed through February 28, Thursdays through Saturdays from 10 AM to 4 PM. The art is on display in Minehart Lecture Hall. The Franklin County Old Jail was built in 1818 and served as the longest continuously operating jail in Pennsylvania. In addition, it survived Chambersburg's 1864 burning by Confederate soldiers during the Civil War. It is an architectural treasure and was named to the National Register of Historic Places in 1970. "Down the Garden Path: In the Spirit of Downton Abbey" will feature works by more than 20 artists of Franklin County.
Winter weather is not deterring "Destination ARTS!" in downtown Waynesboro. Gallery 50, Gallery 20 East and 42 West ARTS Co-Op are displaying regional, local and national art. The Ceramic Arts Center of Waynesboro and The Contemporary School of the Arts & Gallery are offering art and pottery as well as art classes. Activities include Wine Down Friday receptions with wine and light refreshments, art demonstrations, and musical entertainment. Galleries feature a variety of genres, including oil paintings, watercolors, pottery, fiber arts, sculpture, photographs, furniture and more. Hours are Friday from 5 PM to 8 PM, Saturday from Noon to 6 PM, and Sunday from 1 PM to 4 PM.
Chambersburg Council for the Arts in downtown is offering "Small Wonders" through February 20. As the popular expression indicates, the devil is in the details, and so is the beauty, which visitors to the gallery can see firsthand in paintings by Carrie Dietrich, Mary Hickman, Anne Lynott, Derena Martinek & Kyunghee Reed. Council for the Arts' hours are 10 AM to 2 PM Tuesdays through Fridays.
Exploring art in Franklin County can be a spontaneous undertaking or a planned getaway to pair with dining, an architecture tour, or a performance at one of Franklin County's performing arts destinations.
The Franklin County Visitors Bureau invites all to explore Franklin County PA and enjoy the history, arts and entertainment, recreation and natural beauty, and fresh foods and warm hospitality of charming communities like Chambersburg, Greencastle, Mercersburg, Shippensburg, and Waynesboro. Franklin County PA is located just north of the Mason Dixon Line and an easy drive to Washington DC, Philadelphia, and Pittsburgh. Discover more....plan your visit at ExploreFranklinCountyPA.com or by contacting 866.646.8060.