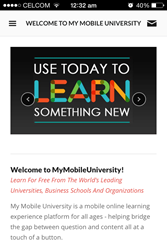 'Education is what remains after one has forgotten what one has learned in school.' - Albert Einstein
Washington, D.C. USA and Malaysia (PRWEB) January 31, 2015
My Mobile University's goal is to impact lives through education, anywhere, anytime, for all ages. Its life learning platform, mymobileuni.com, has expanded its global health learning and educational channel as a world priority for individuals and health care institutions.
Dr. Lawrence Wasserman, Managing Director, Fortech International and Vice President, Strategic Alliances at MyMobileUniversity (MMUni), will manage, promote, and provide content to MyMobileUniversity's global health learning channel.
Our initiatives are to first consolidate the medicine and nursing channels of MyMobileUniversity (MMUni) into the global health section. To further categorize the channel towards health courses, electronic books, and professional training workshops, videos and audio health programs will be added for learning purposes, especially for women and youth development. The importance of wellness and nutrition will be included as a sub-category channel.
One of the goals of MMUni is to promote equal access to education and inclusion of the most vulnerable segments of society, via ICT, in order to ease an individual's access to learning.
Our objectives are to empower individuals through mobile and web technologies, and to establish knowledge based society based on lifelong learning.
In the past 10 years, there has an expansion of health care innovation and application of mobile technology. The M2Uni platform is mobile and web based and is accessible on multiple devices, such as PCs, laptops, tablets, and mobile phones connected to the internet. The global health channel includes access to the latest health information provided by internationally recognized medical institutions.
MyMobileUniversity is pleased to announce a mobile presence as part of its global initiative to impact lives through innovative learning technologies. Visitors will discover awesome learning channels today with the MyMobileUniversity app, now available for both Apple and Android devices.
M2Uni seeks expansion of its global health channel and outreaches to worldwide learning partners, NGO's, International donor agencies and the public and private sectors to provide video talks, lectures, and skills training for medical professionals and nurses.
Dr. Lawrence Wasserman has worked in the global health sector for over 20 years, having served the World Health Organization at the Western Pacific Regional Office in the Philippines, and in 15 countries throughout Asia, Africa and Eastern Europe. He also has several years of experience at the U.S. Public Health Service, consultant to United Nations agencies and international donor organizations.
Dr. Lawrence's commitment is to provide global access of the latest health care innovations in medical technology, telemedicine and mobile health to the worldwide community, public and private sectors.
Those wanting to participate and support the initiative or for more information, please contact:
Dr Lawrence Wasserman,
MyMobileUniversity Corporate HQ
Vice President, Strategic Alliances
dr(dot)lawrence(at)MyMobileUni(dot)com | wfuture(at)hotmail(dot)com
Tel: +1301424183 Mobile: +12404623471
Skype: galaxy139 |Twitter: FORTECH139|
http://www.MyMobileUni.com
LTT Corporate HQ
Rani Wemel,
Co-Founder/COO
Email: founders(at)MyMobileUni(dot)com
Tel: +60377323443 Mobile: +60192070510 Skype: lttglobal http://www.Facebook.com/MyMobileUni