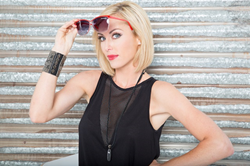 (PRWEB) January 31, 2015
The creators of Podz and Dr. Sun Rx have teamed up with Duck Dynasty's own Jessica Robertson to launch a series of nourishing beauty products that will help her get the luminous looks she's always dreamed of.
American Love is a luscious daily moisturizer that works hard to calm and pamper skin overnight. They've imbued it with soothing aloe and an intense helping of Vitamin D to help support healthy collagen production and reduce inflammation. Its delectable vanilla citrus scent is the perfect way to unwind after a hard day in and out of the home.
With the American Babe White Bronzers self tanning solution she has everything she needs to rock a healthy complexion and rich golden glow. It's specially formulated with green tea extract for its anti-aging qualities, and Ecoslim,TM which provides an anti-cellulite and slimming action. With this streak-free formula she'll revel in a longer lasting tan that develops naturally in 24 to 48 hours.
The sweet and cheeky colors from the Jessica Robertson Lip Gloss line and Nail Polish collection are the perfect way to add a touch of spring and summer fun to any wardrobe. The gloss's rich, creamy formula goes on smooth to plump her pout when on-the go, while the polish's 16 brilliant hues mean there's always a new chance to dazzle.
Dr. Sun Rx was launched in 2009 by Howard and Christy Hogan, veterans in the tanning industry thanks to the successful launch of their Podz Eyewear brand in 2007. They decided to expand their focus to cosmetics after their son was diagnosed with Keratosis Pilaris, a skin condition that causes rough patches and bumps. They formulated their own solution utilizing the healing properties of Vitamin D, and was so pleased with its success they decided to share it with others.
For additional information, please visit http://www.drsunrx.com or contact jeanette(at)chicblvd(dot)com.
ChicExecs PR is an "out of the box" PR company which represents over 70 clients. ChicExecs has created an innovative approach to PR dedicated to helping small-medium businesses receive media coverage. Our revolutionary automated system is changing the face of PR. To learn more about ChicExecs visit http://www.chicexecs.com.