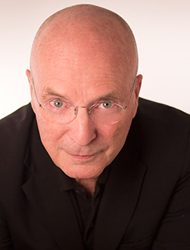 Santa Fe, New Mexico (PRWEB) February 01, 2015
Improve your art collecting acumen by attending this fascinating lecture and presentation by John O'Hern, a widely-respected arts writer with over 30 years experience as a museum professional, at EVOKE Contemporary in Santa Fe.
This event is one of a series of compelling events taking place from January 30-February 8, 2015 during Art Matters Santa Fe. The program emphasizes critical presentations and discussions of a wide range of art in the member galleries and museums. These events focus on connoisseurship and the unique art experience Santa Fe offers to collectors by showcasing the breadth and depth of exhibitions and collections in the galleries and museums and the scholarly owners, directors and curators who provide the experience. Santa Fe has a rich and vibrant art scene with artists, curators, writers, critics, students and collectors whose interests and expertise are as diverse as the people themselves, reading like an art history text.
Santa Fe is one of the most distinctive cultural destinations in America, featuring over 200 world-class art galleries and more than a dozen museums presenting acclaimed exhibitions throughout the year. The art galleries are located in three distinct areas—Canyon Road, Downtown and the Railyard—all within two square miles, connected one to the other and accessible on foot or by car. The art scene in this small city is multi-dimensional and wide-ranging. Santa Fe became the first U.S. city to be chosen by UNESCO as a Creative City, one of only nine cities in the world to hold this designation. Collectors of fine art will find a sophisticated art experience year-round with professional and friendly galleries, many with critical programing and museum quality exhibitions. The galleries feature art in a wide range of media—digital and new media, installations, painting and sculpture, glass, ceramics and textiles—and genre, including contemporary, modern, Impressionism, traditional, Western, Native American and Spanish Colonial among others. The gallery programing promotes connoisseurship, scholarship and a positive experience, whether for a seasoned collector or recent enthusiast.
We invite you to attend each of the ART MATTERS programs to experience Santa Fe as one of the most distinctive cultural and art destinations in America. The city-wide events include unique exhibitions, special presentations and critical discussions in the Santa Fe galleries and museums. The focus is on connoisseurship and education by showcasing the diversity and depth of art and collections in Santa Fe. Take this opportunity to meet artists, historians and critics and the scholarly gallery owners, museum directors and curators who create the art, exhibitions and experience.
About John O'Hern:
O'Hern was in the museum business for over 30 years. As Executive Director and Curator of the Arnot Art Museum, Elmira, NY, he originated the internationally acclaimed Re-Presenting Representation exhibitions which promoted contemporary realism in its many guises. John was chair of the Visual Artists Panel of the New York State Council of the Arts and a reviewer for the National Endowment for the Arts. He writes for gallery publications around the world, and is Santa Fe Editor for American Art Collector and Western Art Collector magazines, and Contributing Editor for American Fine Art Magazine.
Sponsored by the Santa Fe Gallery Association:
Since 1982, the Santa Fe Gallery Association has been a highly-respected, professional organization representing galleries, dealers and museums active in the art community.
SFGA is an advocate for its members in community affairs, hosting an organization website, holding educational membership meetings, contributing funds towards ARTsmart's annual youth scholarship, offering discounts on advertising and fine art insurance, fielding questions regarding the arts industry to the general pubic and press, and staying abreast of new technology.
About EVOKE Contemporary
EVOKE Contemporary is committed to promoting provocative and compelling contemporary art of international acclaim. EVOKE Contemporary participates in Last Friday Openings + Artwalks in the Railyard Arts District each month year round.
EVOKE Contemporary is located at 550 South Guadalupe Street, Santa Fe, New Mexico 87501. Telephone 505.995.9902. For more information, visit the EVOKE Contemporary website at http://www.evokecontemporary.com.