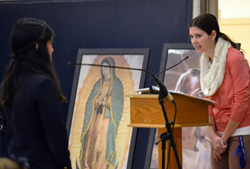 Lemont, IL (PRWEB) January 31, 2015
Everest Academy in Lemont recently held their Annual Spelling Bee competition. This was one of many exciting opportunities that Everest Academy provides for their student body to develop, practice and present oral presentation skills, think on their feet, and to handle outcomes with grace, composure, and good sportsmanship.
The kindergarten competition was held as an in-class competition. The competition in grades 1st through 5th kicked off at the preliminary level in the individual classrooms with the semi -finalists going on to compete at the school finals. The middle school students, in grades 6th through 8th, sent their grade level semi-finalists on to compete against one another in the middle school category. The final matches were held in the Everest Academy gymnasium in front of a supportive crowd of parents, grandparents, and other friendly supporters.
The Spelling Bee is an opportunity for the Everest Academy students to set goals to perform and improve upon their performance year to year. For some students the goal may be to handle the nerves being in front of the crowd, for other students it may be making it to the semi-finals or spelling more words correctly than they did the year before, and still for other students it may be winning and placing in the top three of their grade level. The personal goals of the students help them to appreciate the hard work that they do in their studies working over the years with phonics, vocabulary and, of course, the correct spelling of words.
An Everest advantage brought to life by the Annual Spelling Bee Competition is the fact that students learn to win humbly and lose graciously. "Not everyone gets a ribbon for attendance or participation. Students have the experience of friends competing and there being one winner. This gives us the opportunity to help the student direct the feelings and emotions in a loving, kind, Christ-like way, said Katherine Wollenberg, Admissions Coordinator at Everest Academy. "In any spelling bee there is the process and the luck of the draw in that a student may be stumped by a very difficult word that they are given to spell, but then know the next fifteen words. This creates a learning opportunity and practice for building strong character which is a corner stone of an Everest Academy education," Ms. Wollenberg continued to explain.
Everest Academy is an independent Roman Catholic school in Lemont educating children from preschool through eighth grade. The teachers and staff are dedicated to forming the whole child by providing the highest level of academics, by building strong character, and by preparing generous leaders ready to serve the community. If you would like to learn more about Everest Academy's unique approach to education please contact Katherine Wollenberg at 630-243-1995 or visit http://www.everestadvantage.org.