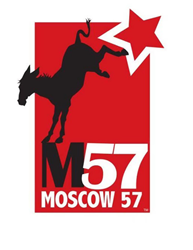 We've met so many wonderful neighbors who have become more than customers – they are true friends,"
New York, NY (PRWEB) January 31, 2015
Moscow 57, the Russian Central Asian restaurant with live music on New York's Lower East Side marks its first anniversary on February 5th, and they will be celebrating all month.
Starting Off With Something New
Moscow 57 kicks off the month with the Bushwick Book Club making their first appearance at the venue with an evening of original songs based on the book, Bluebeard, by Kurt Vonnegut.
A Celebration
Partners Ellen Kaye, Seth Goldman and Ethan Fein are hosting a party for friends and neighbors to celebrate their first anniversary on Thursday, February 5th, from 6:00 - 9:00pm. Look for house-infused vodkas and zakuski throughout the evening. "We've met so many wonderful neighbors who have become more than customers – they are true friends," said Kaye.
It's Black History Month
All month long "300 Names and 300 Years in Black History," an installation by Lower East Side artist in residence Laura Foulke will be on display. Foulke uses mixed-media images and display elements, to honor not only the most well-known heroes of the Black experience, such as Harriet Tubman and Dr. Martin Luther King, Jr., but lesser-known figures like Elizabeth "Mumbett" Freeman of Stockbridge, Massachusetts, the first slave to win her freedom in a U.S. court of law and Impresario Frederick Bruce Thomas.
As a part of Black History Month, Moscow 57 will present its first stage musical with a February 26th workshop performance of The Black Russian, a one-man musical about Frederick Bruce Thomas, the son of former slaves, who became Moscow's king of nightclubs, known as The Sultan of Jazz. There will be a specialty cocktail, "The Frederick Thomas" available all month.
Blowhole Theatre Winterlude
The Blowhole Theatre hits Delancey Street on Sunday, February 8th at 6:00pm. THe Winterlude is a variety show featuring the Violin Femmes, 13-year-old standup Martin Kramer, Spoon Phillips, The Highland Shatners, Robin Aigner, The Jackson Pinks, Sargasso: the Conduit of the Pre-Born and many others.
Not For Lovers Only
Moscow 57's red interior is the perfect place to celebrate Valentine's Day and a unique "couples" prix fixe will be available all week, along with the regular menu. Among the highlights: Frederick Thomas's Fried Oysters, Cupid's Essenguly Date and Orange Salad, Lovers' Stroganoff, Layla and Majnun Lamb and Squash Koresh with Pomegranate and their newest dessert, the M57 Bolkonsky and Rostova Flourless chocolate Cake. Performing on Valentine's night will be Ellen Kaye and Cleve Douglass with the M57 Band, Laura Foulke and Peter Chance.
Sorry, Wrong Number
Aces and Operatives, the interactive theater company, will return to Moscow 57 on February 5th with an amazing bit of technology: an old-fashioned rotary phone that senses when someone is near. The phone rings, and when someone picks up, they find themselves enmeshed in their own spy drama. The surveillance phone is created by Vivian Charlesworth and Alyson Ogasian and on special loan to the Aces and Operatives team.
Moscow 57 Family and Children's Tea Party with Live MusicOn February 15th, at 3:00pm, Moscow 57's Laura Foulke will host another afternoon tea party for children and families, with a variety of musical performances by Moscow 57 regulars and guests.
Grammy-Winning Jazz -- A New Monthly Series
Wayne Escoffery continues his Wayne Escoffery and Friends monthly series on February 20th. It's an opportunity to see this Grammy-winning saxophone player and his trio in an intimate setting. Two sets at 10:00pm and 12:00am.
Oscar Night
Moscow 57 has strong ties to the original Russian Tea Room and the RTR was known for its fantastic Oscar parties. It was the only restaurant to host a live simulcast of the Academy Awards and an Oscar was presented live on the show from New York. M57 will host its own Oscar party on February 22nd. There will be live music during the Red Carpet, an Oscar trivia quiz and a "guess the winners" contest with a grand prize of Dinner for Two with live music and lots of "Hollywood swag" for all guests.
Intrigue! Disco! Glamour! – It's an Aces and Operatives Spy Night!
On February 28th, Aces and Operatives turns Moscow 57 into a 1970's disco with DANGER LAIR: MOSCOW HUSTLE. The year is 1978, and the world appears both bleak and glamourous. America is in an economic depression with low national moral. Over the past decade the nation has witnessed the 'flower power' dream of the late 60's disappear, Vietnam fall, a President resign, and an oil embargo. Although the Cold War has slightly thawed, the Soviet Union is still flexing its muscle around the globe.
Locally, New York City is experiencing its own dark period of urban deterioration, as violent crime and drug trafficking rule the streets. For many, the best escape is the glitz and the glamour of the disco clubs. Word has spread that there is a secret club in Manhattan where famous socialites and persons of interest converge for music, cocktails, and information. That club is known as Studio Moscow 57.
Moscow Hustle will be a glamorous affair with fascinating characters, talented musicians, delicious Russian dishes, and surprises. Echoing back to the adventurous Roger Moore Bond films, the Studio-54 era, and the themes of 1970's dirty deals and deceit (as depicted in films such as American Hustle).
Brunch
The Moscow 57 $25 Limitless Moscow Mules, Mimosas and Bloody Marys Weekend Brunch continues on Saturdays and Sundays with a variety of eggs benedict, lox and eggs, pastrami and eggs, bananas foster French toast and more. Live music at brunch Saturdays with a rotating roster of artists and every Sunday with Grace Garland.
M57 Musical Artist Roster
Cleve Douglass, Grace Garland, Cici James, Richard Stein Laura Foulke, Claire Rodman, Dmitry and Maria, Mary Foster Conklin, Yuri Lemeshev, Jordan Pettay, Meredith Manna, Kelley Suttenfield with Tosh Sheridan, and Kondor will make their regular weekly or monthly appearances, and Ellen Kaye with guitarist, arranger and producer Ethan Fein and the M57 band featuring Benjamin Franklin Brown on bass perform nightly. To see the full roster of entertainment and events, go to https://moscow57blog.wordpress.com/
M57 ENTERTAINMENT CALENDAR
Wednesday, February 4th – Bushwick Book club
Thursday, February 5th – Moscow 57 First Anniversary
Sunday, February 8th- Blowhole Theatre Winterlude
Saturday, February 14th- Valentine's Day with Ellen Kaye, Cleve Douglass, Laura
Sunday, February 15th - Laura Foulke's Family Tea Party
Friday, February 20th, - Wayne Escoffery & Friends
Saturday, February 21st- Alfonso Vilallonga with Yuri Lemeshev
Sunday, February 22nd- The Oscar Party
Saturday, February 28th- Aces & Operatives: Moscow Hustle