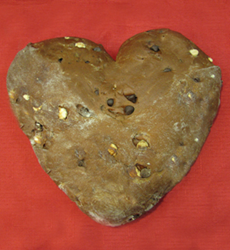 All we need is love...but sometimes it ain't what you need but what you love
San Luis Obispo, Ca. (PRWEB) January 31, 2015
House of Bread gears up for the month of February with all things chocolate. Enjoy the heart shaped Triple Chocolate Bread, which has white and dark chocolate chunks throughout. We also have Triple Chocolate Cookies, Decadent Fudge Brownies, and the ever popular Chocolate Zucchini loaf. Come on in and sing the song "all we need is love" and we will return the love with a treat on the house. Good vocals aren't necessary but a heartfelt effort is required. Good the entire month of February but no encore.
Want to bake your very own loaves at home? This recipe is for you.
Chocolate Zucchini Bread
Yield 4 loaves
8 Eggs
4 ½ Cups Sugar
2 1/4 Cups Oil
1/4 Cup Vanilla
Mix together in a large mixing bowl until thoroughly combined. In separate bowl combine the following ingredients:
5 1/4 Cups Flour-pastry or all purpose
2 tsp, Salt
2 tsp, Baking Soda
1 tsp, Baking powder
2 1/4 ounces Cocoa, unsweetened weighed out
4 Cups, Zucchini, grated
Combine wets and dries together and scoop into well greased baking pans or muffin cups. Bake loaves at 350 for approximately 55 minutes and muffins for approximately 45 minutes, depending on oven.
Option: scoop out 1/2 of the batter into prepared pans, then add 6 cups of nuts to remaining batter. Combine nuts and continue scooping out batter. Sprinkle nuts on top.