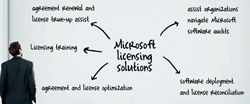 Hiring experts to help navigate a Microsoft software audit can save a company thousands of dollars
Reno, NV (PRWEB) February 02, 2015
Microsoft has been auditing its customers' software usage more vigorously than ever. Some form of official Microsoft compliance check is inevitable for most organizations according to industry analysts. Software audits are profitable for software publishers, as with new software purchases they increase revenues.
Microsoft performs different degrees and types of compliance checks, including onsite or self-audits and Software Asset Management (SAM) engagements. Each type of compliance check carries its own form of labor cost and impact on targeted organizations. Many organizations go into an audit not expecting compliance issues, but later find themselves facing major compliance findings. Unless properly managed, these audits can be expensive and disruptive to businesses. Organizations are often required to purchase unwanted and unbudgeted software licenses, given the virtual certainty the targeted organization will have license gaps.
According to Bruce Liley, the General Manager at Broomstick, LLC, "Most organizations want to be legitimate in their software licensing, and shortfalls are typically unintentional."
Liley had a successful 13-year career at Microsoft where he developed a majority of Microsoft's Customer and Partner Audit Compliance programs and managed the Company's Partner and Customer Audit team for the Americas' region.
"Software publishers have the right and responsibility to enforce their Intellectual Property rights, but the reality is audits and SAM engagements are expensive, time consuming, and subject to error if not carefully managed by licensing experts," says Liley.
According to Liley, "The Microsoft audit and SAM software reconciliation process to determine under- and over-licensing by software products is inherently challenging to complete. The critical stage of the reconciliation process is the assignment of license entitlement to software deployed. This requires a thorough understanding of the organization's IT environment, users, and how the software is used. Licensing entitlement for certain Microsoft products can be assigned in several different ways, and it is critical that licenses be correctly assigned based on the organization's specific IT environment. Audit reports can incorrectly include tens to hundreds of thousands of dollars in findings, if the license entitlement assignment is not completed correctly.
"We save organizations money, often significant savings, through ensuring the audit process is completed correctly, the data is accurate, and the licensing entitlement is assigned in a manner optimal for the end-customer.
"Unlike software resellers who perform compliance checks and make commissioned sales at the completion of the reconciliation, Broomstick is independent of Microsoft and software resellers and does not benefit from customers purchasing software," explains Liley. "This means our focus is entirely on finding optimal solutions and saving our customers money with no conflict of interest. We don't sell software, and we have no intention to sell software. There is a market opportunity to help customers without trying to sell them any products."
Liley strongly suggests that organizations cooperate during an audit in a manner that does not place the organization at risk: "If you are concerned or have been notified of an audit or SAM engagement, take it seriously and engage a licensing advisor experienced in Microsoft's licensing procedures. There is significant financial value to having an experienced licensing advisor help the organization navigate the licensing audit and ensure the underlying data and reconciliation processes are accurate. Ensuring the audit process is completed correctly is a win-win for customers and Microsoft."
About Broomstick, LLC:
Broomstick is an independent software licensing advisor company that helps organizations of all sizes and industries analyze, optimize, and save money on their Microsoft software licensing. Broomstick's team helps organizations proactively manage software, mitigate contractual noncompliance risk, and evaluate cost-effective Microsoft agreements and licensing programs that work best for the company.
For more information about Broomstick, LLC 's services, please visit: http://broomstick.guru