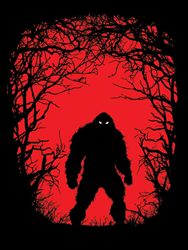 "… let me say what a fantastic time was had by those in attendance. Creature Weekend proved to be the EVENT to be at for those who truly have a passion in cryptozoological research..." – Sean Forker, Cryptozoology Researcher and Radio Show Host
Salt Fork State Park, Ohio (PRWEB) February 03, 2015
Creature Weekend is proud to announce that it will be holding its 2015 conference at Salt Fork State Park in Ohio on May 1-3, 2015. This year's speakers include the cast of the Destination America Channel's "Mountain Monsters", and veteran Cryptozoologists Nick Redfern, Ken Gerhard and Chad Arment.
Mountain Monsters is a weekly show which airs on the Destination America Channel and showcases the exploits of the group known as The Appalachian Investigators of Mysterious Sightings as they follow up on mystery monsters lurking in the most hidden parts of Appalachia. The group is led by veteran Outdoorsman and Mountain Man, "Trapper" John Tice.
Nick Redfern is a bigfoot researcher and the author of many books on cryptozoology, including Monster Files; There's Something in the Woods; Monster Diary; Wildman; and with Ken Gerhard, Monsters of Texas. He writes for Cryptomundo and Mysterious Universe. Nick has been on many expeditions to Puerto Rico in search of the Chupacabra, and has investigated reports of big cats in the UK, and lake monsters in the United States. He can be contacted at his blog: http://nickredfernfortean.blogspot.com
Ken Gerhard is a widely recognized cryptozoologist who has been referred to as a real life monster hunter. He has searched for evidence of mysterious animals and legendary beasts around the world, including Bigfoot, the Loch Ness Monster, the Chupacabra, Winged Creatures and even Werewolves. Born on Friday the 13th of October, Ken has traveled to 26 different countries on six continents and has visited most of the United States. He has authored four books on the subject of cryptozoology. In addition, Ken has appeared on over a dozen Tv shows, including Monster Quest, as well as other programs on the History Channel, National Geographic, Travel Channel, Syfy, A&E, TruTv, Nat Geo Wild, Science Channel and Destination America. He is a regular guest on Coast to Coast AM.
Chad Arment has been involved in cryptozoological research for over 20 years. His research is focused on lesser-known mystery animals, historical surveys of North American cryptids, and the scientific methodology behind cryptozoology. Chad operates Coachwhip Publications (CoachwhipBooks.com), a print-on-demand book publishing venture, that publishes several cryptozoology titles and other authors. Chad's published works include "Cryptozoology: Science & Speculation", "Historical Bigfoot" , "Varmints", "Boss Snakes". Chad will be moderating the Saturday Morning forum discussion on Mountain Lion Sightings in the Ohio area and other parts of the Northeastern United States. He will also be giving a presentation at the Friday night dinner with the speakers about lesser known cryptids. At the end of his presentation, he will be giving a primer for aspiring cryptozoology authors on how they can get started publishing their own books on Cryptozoology and how to avoid the common mistakes that new authors make! This is a unique opportunity that you will not want to miss!
About Creature Weekend: Creature Weekend is the nation's largest annual Cryptozoology Conference held in Cambridge, Ohio. Each year, speakers from a cross-section of the field of Cryptozoology give presentations on various cryptids including Bigfoot, Yeti, Dogmen, and other creatures which defy science and the imaginationl. Discounted Conference Tickets are available online while they last. For more information and a complete schedule of events, please visit http://www.creatureweekend.com/ or email martin(at)creatureweekend(dot)com or call 740-888-1313.